Along with the notorious morning sickness and swollen ankles, sore and bleeding gums during pregnancy is a common concern among pregnant women. While the exact cause of these gum concerns may be as simple as dry mouth as a result from dehydration, pregnancy hormones can also lead to an increased risk of periodontal disease. Because of this, when sore gums or bleeding becomes present, don't wait until you are in the hospital or seeking emergency dental help to get it checked out.
As you continue on your pregnancy journey and begin to experience a number of new changes and symptoms, here are a few things you should know about sore and bleeding gums during pregnancy, so you can maintain optimal dental and oral health.
Causes of Dry Mouth During Pregnancy
Dry mouth, also known as xerostomia, can lead to bleeding gums during pregnancy, and is one of the most common causes for this condition. In addition to bleeding gums, dry mouth can also cause the gums to be painful and lead to a decreased ability to keep the teeth moist.
Simple dehydration isn't the only cause of this condition however, a number of factors can play a part.
Regardless of the cause, during pregnancy, it is important to maintain good oral hygiene and maintain regular dental care visits to ensure the health of your gums as well as overall oral health. Brushing your teeth twice a day and using fluoride toothpaste, if so inclined, is important.
Symptoms That Accompany Bleeding Gums During Pregnancy
If your gums are bleeding, it is important to visit your dentist for an examination to confirm there are no underlying issues that could be more cause for concern, as in some cases, bleeding gums during pregnancy may be a sign of gum disease. When additional concerns are a factor, other accompanying symptoms that may include the following.
Swollen, Sore Gums
During pregnancy, hormonal changes can cause the gums to swell and become sore. It is extremely important to see your dentist if your gums are swollen and sore.
Pregnancy-Related Gum Tumors
During pregnancy, increased estrogen levels may cause a tumor-like reaction in the gums, which leads to enlarged gums. It is also common for pregnant women to experience bleeding from gum tumors.
Pregnancy Gingivitis
This is one of the most common problems experienced by pregnant women. Pregnancy gingivitis is characterized by swelling and bleeding of the gums during pregnancy. Pregnancy gingivitis is also characterized by bleeding from gum tumors, bleeding from the tongue and sore jaws.
Treatment Options
If bleeding occurs and your dentist detects gum disease, they may recommend an antibiotic injection to treat gum disease during pregnancy. If your gums bleed more than once a week, it is recommended that you visit your dentist for treatment.
Some other treatment options for bleeding gums during pregnancy include:
1. Regular Dental Care and Cleaning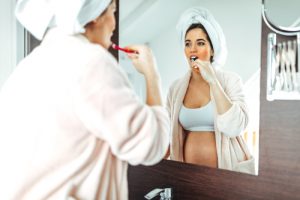 Brushing your teeth twice a day and visiting your dentist regularly are important for maintaining good oral health during pregnancy. After the baby's birth, it is recommended that you visit your dentist for routine dental care to avoid any incidents of tooth decay or gum disease.
2. Flossing
Flossing is an important way to remove plaque and prevent gum disease during pregnancy. It is recommended that you floss at least once a day. Some dentists also recommend using an interdental cleaner during pregnancy to clean the area between your teeth.
3. Taking a Prenatal Vitamin
Believe it or not, taking a prenatal vitamin during pregnancy can have a well-rounded effect on your health, and can even help strengthen your gums. Ideally, you should begin taking a prenatal vitamin one month before becoming pregnant and continue throughout the last trimester of pregnancy.
Possible Complications of Bleeding Gums During Pregnancy
Bleeding gums during pregnancy can be a very significant problem. If you develop persistent bleeding gums, it is important to see your dentist to rule out gum disease. Gum disease during pregnancy can cause bleeding of the gums and tooth decay. Gum disease during pregnancy can also lead to other complications.
One of the main complications caused by gum disease is periodontal disease, which causes bad breath, canker sores and infection in the gums. Periodontitis may eventually cause your teeth to become loose and can even result in tooth loss.
Gum disease can also cause chronic pain, dental abscesses, gum recession, jawbone damage, and if left untreated, cardiovascular concerns.  A link has also been found between gum disease and other serious health concerns such as diabetes and stroke.
Perhaps most important, gum disease during pregnancy puts you at a higher risk for adverse pregnancy outcomes, including preterm birth, low birth weight, pre-eclampsia and gestational diabetes.
During pregnancy, it is important that you maintain good oral health. Certain changes in the body and hormonal changes that occur during pregnancy can lead to oral health problems. During pregnancy, it is important to be very careful about your oral hygiene and visit your dentist regularly for check-ups.


Concerns and Complications

Pregnancy Basics