Athletes have been using kinesiology tape to relieve their pain and inflammation for years. Now find out how to use it to alleviate pregnancy symptoms without side effects!
What is Kinesiology Tape?
Kinesiology tape is a stretchy tape originally designed for athletes to help aid in sport injuries. It sticks to your skin with adhesive and lifts your skin to promote better blood circulation wherever you place the tape. Lifting the skin also takes pressure off your pain receptors, so this is a cheap solution to pain that works around the clock without side effects. Taping helps your body heal itself by reducing swelling and inflammation and providing support to wherever you apply it.
Benefits of Taping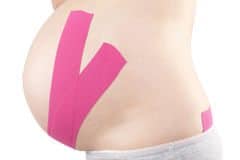 Using tape instead of other pain relief methods has nearly no downsides. It is one solution you can use to combat nearly all of your pregnancy symptoms and you do not have to put anything inside your body. Unlike medications, tape contains no chemicals that could hurt or affect your baby. It provides treatment almost immediately upon application and provides 24/7 relief for up to five days. You can shower and sleep with your tape still on, so it is a fuss-free pain solution. It is also gentle so instead of restriction, you just feel relief. Not only can you use tape on your belly, you can also apply it for common pregnancy ailments like carpal tunnel, swollen feet and legs and sciatica.
Using Tape When Pregnant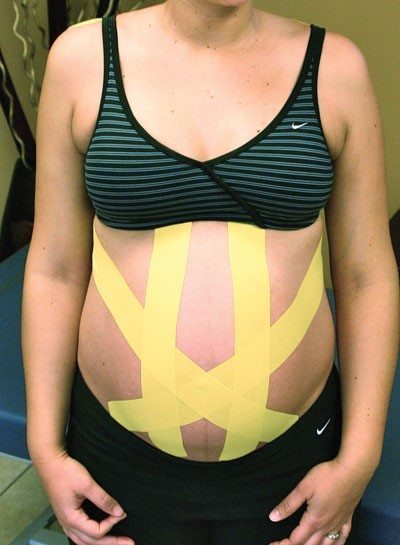 Pregnancy can cause a wide variety of aches, pains and swelling all over the body and the use of kinesiology tape can help alleviate that discomfort. One of the most popular uses of taping for moms-to-be is taping underneath the baby bump. This lifts your belly ever so slightly to relieve tension in your lower back and pelvis. Taping helps redistribute the belly weight to relieve the pain and fatigue you feel as your bump grows. To achieve this "belly belt," apply one strip of tape to the middle of your lower belly and pull the ends upwards to cradle your bump. Repeat with a few more strips for extra support.
You can also apply a strip of tape vertically on each side of your baby bump if you need more frontal support. If you have a more protruding belly, apply two strips of tape in an "X" shape across your bump to hold it in place. If your belly is hurting all around, combine these two methods for maximum support.
Lower back pains can be alleviated by applying a strip of tape on your lower back and a strip under your bump so your belly is supported. Moms who feel more pain in their abdominal area can apply a vertical strip from your pubic line to your diaphragm and another horizontally under your bump. If your baby is pushing up into your diaphragm making it hard to breathe, attach a strip of tape on one side of your torso at the top of your belly (right under your breasts) and stretch it to the other side. This will gently push your belly down to relieve pressure.

Everyday You

Pregnancy Basics

Symptoms and Changes