What is a labor induction?
Usually, labor naturally begins from the 39th or 40th week of pregnancy, but in some cases, contractions do not occur by themselves, which is why labor must be induced. Inducing labor is the process of bringing about labor through the administration of certain medications, use of techniques or a combination of both. The methods health care professionals use to induce labor stimulate uterine contractions and help to thin out the cervix, both of which occur during natural labor.
Reasons for inducing labor
Labor induction can be useful if mother and baby are seriously in danger.
A healthcare provider may also suggest or insist on inducing labor due to complications such as high blood pressure, preeclampsia or diabetes. The most common reason for labor induction is placental insufficiency in which the oxygen supply of the baby is not guaranteed. If the amniotic sack ruptures (water breaks) but the mother has not started labor within 24-48 hours, or if the pregnancy is at or beyond 42 weeks, induction may be performed. Even if it is a multiple pregnancy, a natural birth can sometimes be induced before the appointment.
Another reason labor is induced is non-medical, referred to as elective induction. The ACOG (American College of Obstetricians and Gynecologists) advises against labor inducing labor unless it is riskier for the baby to remain inside of the uterus. However, elective labor inductions are growing popular and are often scheduled for convenience. Most healthcare providers will not agree to these unless the mother is at least 39 weeks along.
How are labor inductions done?
Often, labor that is induced medically is done in a process in which both the mother and baby are monitored regularly. In addition to certain physical techniques, the use of synthetic hormones is also implemented in many cases to initiate labor. In addition to understanding the methods, it is important to know the benefits and risks associated with each.
Methods and associated risks:
Cervical ripening
The ripening of the cervix is a process to help soften the cervical cavity to prepare it for labor. This can be done by a number of approaches.
Prostaglandins
If the cervix needs to be softened and thinned out, synthetic prostaglandin (tissue hormones which have an effect on the cervix) is often used to prepare the cervix for labor. It is most often inserted vaginally as a gel, suppository or tablet several hours in advance. This assists with thinning out and dilating the cervix, which is necessary for the baby to come out vaginally. Since the hormones do not act immediately, the induction has often been repeated several times. With the help of prostaglandins, contractions occur either by themselves, otherwise, labor must continue to be stimulated artificially.
Risks:
The use of Prostaglandins can cause fetal distress by causing excessive contractions too quickly. If this occurs, it can lead to the need for an emergency C-section.
Balloon catheter
Another method for preparing the cervix is through the use of a catheter that has an inflatable balloon on the end of it can be placed to widen the cervix. Prostaglandins are released from the body, which leads to the ripening of the cervix. This is also known as a Foley balloon catheter and not a very common method anymore.
Risks:
Some risks associated with using a balloon catheter include fever, fetal distress, excessive pain, baby turning to breach position and vaginal bleeding.
Initiating contractions
Amniotomy (artificial rupture of the membranes)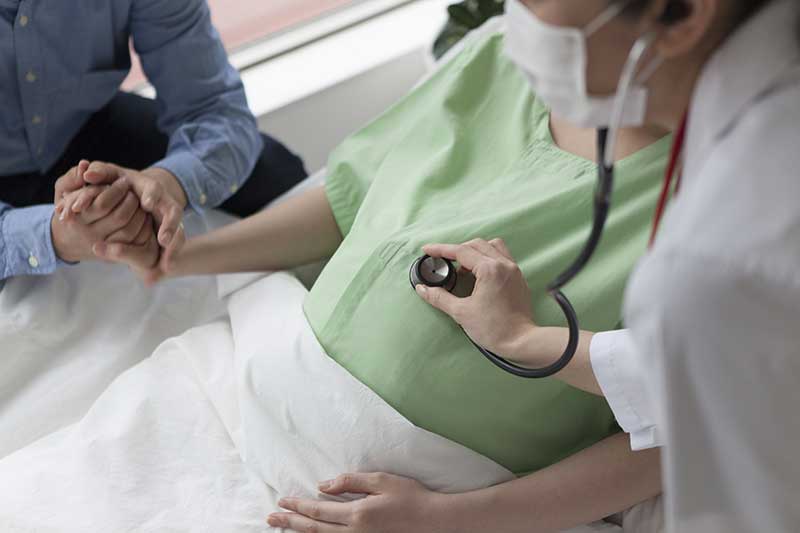 When the cervix is softened, thinned out, dilated and the baby's head has dropped, the doctor may rupture the amniotic sac with a tool. An amniotomy can initiate contractions or intensify them if contractions have started.
Risks:
Risks associated with artificially rupturing the membranes include prolapsed cord (a life-threatening emergency for the child, with the umbilical cord slipping into the vagina), infection and the baby turning breech.
Administration of synthetic oxytocin
This is the most frequent type of labor induction, but it's only used when the cervix is soft and slightly open. Oxytocin is a hormone produced by the body naturally that causes the contractions in the uterus. When inducing labor, Pitocin, a synthetic oxytocin, is administered through an IV drip in low doses to initiate or increase contractions.
Risks:
Risks with using Pitocin or other synthetic oxytocin include fetal distress from hyperstimulation of the uterus, postpartum hemorrhage and low blood pressure.
Overall risks of inducing labor:
Increased chance of infection of mother or baby
Labor is more painful
Higher risk of suction cups/forceps
Death (in extreme cases or poor birthing environments)
Emergency C-section
Uterine rupture
Natural labor induction
Alternatives to artificial induction are natural methods. The following measures can help to induce labor:
Intercourse
Sex is a good way to stimulate labor naturally. This is due to the prostaglandins contained in the sperm, which help the cervix to stretch. However, avoid sexual intercourse if the fruit bubble has already burst.
Whether you practice yoga, go for a walk or just climb stairs: With a bit of luck, exercising can cause labor. Dancing, swimming or circling movements of the pelvis can also be helpful. This allows the child to find its optimal position for the beginning of the birth. There is a greater pressure on the pelvis, which results in a release of the hormone oxytocin, which stimulates labor.
Another option for causing labor in a natural way are abdominal or foot reflex zone massages, which have a relaxing effect. For example, when the abdomen is massaged with circular movements, labor can start. Essential fragrant oils can be helpful here. It is important to talk to your doctor or a midwife before you begin such treatments.
Acupuncture and homeopathy
Another way to promote contractions is to set fine needles. Many midwives have an additional education as an acupuncture therapist. In addition, the administration of homeopathic globules can stimulate labor. It is important that you only use these methods after consultation with a doctor or a midwife. 
Herbal teas
Herbs and spices such as ginger, cinnamon and cloves can also help to promote labor. A delicious tea can be prepared from these ingredients. Drink two to three cups a day and wait for what happens.
Bathing
A warm bath is not only relaxing, it can also stimulate labor. However, make sure that the water has a maximum of 38 degrees so that your circulatory system is not strained.
Stimulation of the nipples
Unbelievable, but true: Rubbing or massaging the nipples can induce labor. It is assumed that the hormone oxytocin is released, which has a stimulating effect. The hormone is also released during breastfeeding, which causes aftermath and supports the recovery of the uterus.
Labor Cocktail
The famous Labor Cocktail has always been considered as a natural way to induce labor. It is a mixture of apricot juice, castor oil and liquor, but can also be prepared without alcohol. After only a couple of hours, this drink can cause labor to start. The disadvantage: Many women get stomach cramps or diarrhea. Do not drink such a cocktail before talking to your doctor or the midwife!
There are many possibilities to induce labor. Regardless of whether this is done in a natural or artificial way, always consult with your doctor or a midwife.
Questions to ask your provider:
As you near the end of your pregnancy, it's not a bad idea to start preparing for any potential labor procedures or alternate routes you may need to have done. By doing so you can put your mind at ease that you and your doctor will be on the same page when it comes to making important decisions. When discussing the topic of labor induction with your doctor, here are a number of questions you may want to ask to be fully prepared for the situation.
Ask what the risks are, especially for you personally. Each woman is different and will have risks depending on age, pregnancy history, medical conditions and other factors.
If your doctor or provider has recommended inducing labor, ask for specific reasons for the suggestion and what your options are.
How long will it take?
Will you need to stay overnight or will they induce you in the morning?
What should you bring to the hospital?
Ask your healthcare provider what methods he or she uses to induce labor.
What options do you have for pain management?
Will you be able to eat during the process?
If you are requesting to be induced, find out what your provider thinks about this decision.

Delivery