Appetite loss is a common symptom encountered by women in pregnancy. Here's how to make sure you get the proper nutrition for your little one's growth.
After hearing so many stories about pregnancy cravings, discovering that you have no appetite during pregnancy can be a big shock. After all, you have always thought that pregnant women feel the urge to eat for two. Although it may be tempting to use this pregnancy symptom as a way to avoid gaining too much weight, the truth is that you still need to find ways to eat so that your baby has the nutrients they need for healthy development. Fortunately, you can overcome a lack of appetite by using these strategies to sneak nutrition in when you just don't feel like eating.
Understanding the Reasons For Appetite Loss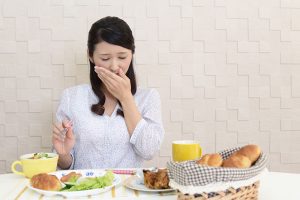 Approximately 70 to 85 percent of women experience a drop off in their appetite in the first weeks of pregnancy when morning sickness and nausea takes its toll. This means that finding yourself turning your nose up at food is a pretty common experience to have even if it feels so strange. If you find that your lack of appetite goes on for too long or seems extreme, always talk to your doctor. However, it is possible that morning sickness is to blame if you are in your first trimester of pregnancy. As your pregnancy advances, your growing baby could place pressure on your stomach, thus lowering your appetite as well. Often, understanding why you don't feel like eating helps relieve your anxiety while also giving you a starting point for finding ways to stimulate your appetite.
Healthy Approaches for Appetite Loss During Pregnancy
Eat Smaller Meals
When you can't stomach the idea of a heavy meal, consider breaking your three main meals up into six smaller ones. Try having a slice of peanut butter toast or half of a banana instead of a full meal for breakfast. While you will need to be careful to choose snacks that add up to the equivalent of eating several actual meals, this is a great way to get nutrients to your growing baby without feeling ill. A light snack in the morning can also help ease morning sickness so that you have a stronger appetite the rest of the day.
Avoid Strong Odors
Pregnancy has a unique way of changing everything and you may find that the scents that used to make your stomach growl now leave you feeling queasy. For the moment, avoid foods that have strong odors or tastes such as fried or spicy dishes. Instead, try eating bland meals that may not be as tempting but at least can make it to your stomach.
Try a Shake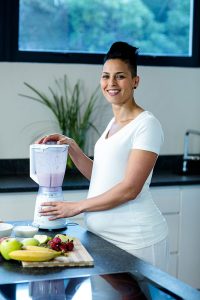 A well-planned smoothie or shake can pack a ton of nutrition without feeling too heavy on a small appetite. Mix up some yogurt, milk and your favorite fruits and enjoy a cool beverage that is as good as a meal. You can even blend in vegetables such as broccoli or add some flax seeds for an extra nutritional boost. Since the fruit flavor will mask any other flavors, this is a great way to eat your vegetables when your appetite loss makes it hard to eat ones that have a strong odor when they are cooked.
Take Your Prenatal Vitamin
Consider those prenatal vitamins as your secret weapon when you are battling a low appetite. Although it is always best to consume nutrients from food sources, supplements can help fill in the gaps when you aren't able to eat much. Talk to your doctor about your appetite levels, and make sure that you take your prenatal vitamin every day if it is prescribed.
Enjoy Your Favorite Foods
While it is important to eat a well-balanced meal, indulging your cravings a little bit is still a great way to get in some extra calories. If ice cream is all that you can stand trying to eat, then go ahead and fill up a bowl since it is one way to fit in a little calcium. Once your appetite returns, you can always go back to eating better.
Nutrition is important during pregnancy, yet it often seems as though your body has its own ideas about what you should eat. Knowing how to manage a low appetite in pregnancy allows you to still manage to give your baby the vitamins and minerals they need to grow while still staying comfortable over the upcoming months.

Diet

Prenatal Health