Using some medications during pregnancy can lead to birth defects. It remains crucial to check with your healthcare provider before you take any drugs during pregnancy.
Birth Defects and Medications
Preventing disabilities and defects in unborn and newborn children begins before birth. For instance, a woman who is expecting or trying to become pregnant should ask permission before they take any medication, over-the-counter drug or supplement. Some supplements, like folic acid, may be recommended to you. Taking folic acid ensures that the fetus brain and spine develop optimally. A woman planning on becoming pregnant should have a blood test to check their levels of folic acid and vitamin B. If they are low in either of these substances, they can take a supplement and increase the amount of folic acid and B vitamins they eat in their daily diet.
Avoid Illegal Substance and Alcohol While Pregnant
A woman shouldn't drink during pregnancy. When a pregnant woman drinks, she exposes her unborn baby to alcohol, too. No safe amount of alcohol can be consumed during pregnancy, so you should not drink at all from the time you start trying to become pregnant until after the baby is born. Women who choose to drink while pregnant expose their babies to risks for intellectual disabilities, physical problems and behavioral issues. Fetal alcohol syndrome is one example of a disability that can occur in newborns from their mother drinking during pregnancy. Drinking while pregnant can also cause defects and even death in an unborn child.
Don't Smoke While Pregnant
Not all women realize that nicotine is a drug contained in cigarettes and other forms of tobacco products that can cause defects in their unborn baby. Smoking before and during pregnancy may cause:
Cleft palate or cleft lip
Death of the baby
A pregnant woman also needs to avoid second-hand smoke exposure, as second-hand smoke also causes defects in the baby. If you are smoking and find that you are pregnant, stop smoking right away to keep your unborn child from experiencing low birth weight as well as the other defects mentioned above.
Using Marijuana and Other Drugs While Pregnant
An expectant mother should definitely refrain from using marijuana and other street drugs during their pregnancy and before they become pregnant. If you are pregnant and using medical marijuana, you'll need to discuss alternatives for marijuana use with your healthcare provider.
Also, if you have become addicted to pot or other drugs, seek your doctor's advice on safely getting off these drugs. Congenital disabilities such as low birth weight and changes in brain structure have been found in babies born to mothers who use drugs. If you have the choice, get off these drugs before you get pregnant and stay clean and sober.
Using Prescription and OTC Medications While Pregnant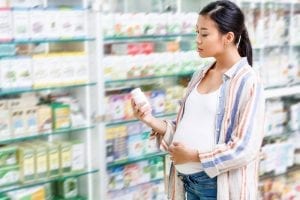 Very little data remains available regarding prescriptions and OTC, over-the-counter, medications and their effects on the unborn fetus. Medications containing at least one or more active ingredients were monitored in studies at medical exposures in pregnant women.
During one particular study, which spanned 33 years, an increase in defects of babies was noticed when their mothers took four or more medications while pregnant. Researchers report that the amount of drugs used is hard to determine, however. For instance, just because a prescription is bought doesn't mean it is regularly used. Continued studies are recommended to establish the link between certain medications and defects in babies.
Some drugs are teratogens, which means that they can disturb an unborn baby's development. These medications may also stop the pregnancy as well as causing a malformed fetus. Some teratogens include:
Radiation
ACE inhibitors
Regularly ingested alcohol
Male hormones
Acne medications like Retin-A
Anticoagulant medications
Anticonvulsants
Lithium
Anticancer medications like methotrexate and aminopterin
Some antirheumatic drugs
Cocaine
DES, which is a hormone
Thalidomide, which is used to treat leprosy
The surest and safest method to ensure that you don't take any chemicals that can hurt your unborn baby is to not take any medications that have not been recommended by your healthcare provider. Being careful about supplements, herbs and all medications will help ensure that you have a healthy baby.


Concerns and Complications

Pregnancy Basics