Pregnancy can be an exciting time in your life, but it requires great care and a watchful eye to make sure you're healthy for two. Both OB-GYNs and MFM practitioners are specialists qualified to help, but you don't necessarily need to see both.
Read on to learn the difference between the two and figure out what's best for you and your unborn little one.
The OB-GYN
An obstetrician-gynecologist (OB-GYN) is trained in two fields: obstetrics, which focuses on maternity, and gynecology, which focuses on the female reproductive system. Gynecology also addresses breast health. Most OB-GYNs cover a range of conditions and health matters under both fields, but there are many who focus on issues like gynecologic oncology and infertility. If you're pregnant, your doctor will at least need to be an obstetrician to address your needs and concerns.
When you become pregnant, you'll have to visit an OB-GYN—most other specialists won't be able to prescribe a care regimen. Doctors have to spend about twelve years in school and training to practice in obstetrics-gynecology, so they're well-versed in many conditions specific to maternity if any issues arise. OB-GYNs are also the people to administer preventive screenings and surgeries; when you give birth, they'll probably be close by. If you're simply considering getting pregnant right now, you can discuss your health and options with an obstetrician-gynecologist to make the best choices.
The MFM Specialist
You're less likely to speak with an MFM practitioner, but many patients end up needing them due to the patients' health and likelihood of complications. MFM is one of the subspecialist fields, maternal-fetal medicine, and can be practiced after an additional two to three years of education. These specialists focus specifically on high-risk pregnancies and administer care regardless of whether you've yet to give birth or have already brought your child into the world. High-risk pregnancies can develop from a number of different conditions, particularly because a large number of conditions that threaten the mother or fetus qualify.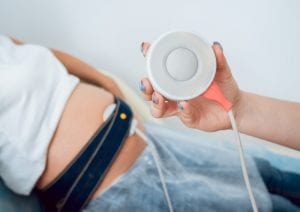 Below are a few common examples:
Internal infections
Pregnancy after 35 years of age
Family history of genetic defects or disorders
Prior conditions like high blood pressure or obesity
Past events like miscarriages or pre-eclampsia
Rhesus Incompatibility
Premature birth and/or multiple birth
The child in the womb does not develop sufficiently
An MFM specialist will also be able to share information with you and educate you as you plan or carry out your pregnancy, and when necessary, the specialist can assist in transfers of care.
When to See Whom
Both an obstetrician-gynecologist and maternal-fetal medicine specialist are educated to treat the female body, but the latter is a special field of the former—you don't have to visit an MFM specialist most of the time. Many women never have to see an MFM practitioner since many pregnancies don't carry any greatly elevated risk. An obstetrician-gynecologist is the default physician to see when you want to or have already become pregnant, and if you want to start your maternity care on the right track, you should see one regardless of whether or not you have special needs.
If the OB-GYN or an associated medical professional believes that your pregnancy will be high-risk, however, you'll also see an MFM specialist to make sure your pregnancy and fetus are as safe as possible. OB-GYNs refer to MFM specialists when patients will likely have complications; you might be referred to one even with a healthy pregnancy, depending on your general health and risk factors. While they can fulfill the general responsibilities of OB-GYNs when needed, they're specially tasked to protect you, your unborn child, and your family when the pregnancy comes with possible threats.


Concerns and Complications

Pregnancy Basics