Hot flashes can occur during pregnancy and are usually a sign of a complication. Medical studies have revealed that women who develop hypertensive conditions or gestational diabetes during pregnancy have a higher incidence of hot flashes during menopause.
Pregnancy Complications That Can Lead to More Hot Flashes in Menopause
Two complications of pregnancy that are believed to increase the frequency and severity of hot flash sensations during menopause are preeclampsia (a hypertensive disorder) and gestational diabetes. Both conditions derive from a common source: vascular endothelial dysfunction.
Preclampsia
Approximately 5 percent of pregnant women develop preeclampsia. It is characterized by a sudden temperature spike accompanied by swelling, predominantly in the hands, feet and face.
If not properly diagnosed and treated, preeclampsia can lead to full-blown eclampsia, a potentially life-threatening pregnancy complication.
Usually discovered during a routine prenatal exam, preeclampsia is often asymptomatic in the early stages. The spike in blood pressure is not noticeable and could be a normal part of the pregnancy. The unique change that alerts the doctor to the presence of preeclampsia is a high blood protein level.
Later stages of preeclampsia may include headaches with blurry vision, general malaise, weight gain due mainly to fluid retention, shortness of breath, reduced urinary output, vomiting, decrease in blood platelets, and compromised kidney function.
Preeclampsia in late pregnancy may require a cesarean delivery or labor induction. Steps can be taken to control the condition, but it cannot be completely resolved until the baby is delivered.
Gestational Diabetes
Gestational diabetes usually appears in late pregnancy. Women with gestational diabetes have an increased risk of preeclampsia.
Women who are over 25, overweight or have a family history of type 2 diabetes are more likely to develop gestational diabetes. For unexplained reasons, women who are Hispanic, black, Asian or American Indian are at higher risk of developing gestational diabetes than white women.
The presence of gestational diabetes can cause complications for the mother and baby. A mother-to-be with gestational diabetes is at greater risk for developing it again with subsequent pregnancies as well as developing type 2 diabetes later in life.
Research shows that women with gestational diabetes who achieve ideal body weight post-pregnancy have a less than 1-in-4 (25 percent) chance of developing type 2 diabetes.
Infant-related complications of gestational diabetes include respiratory stress syndrome, premature birth, increased birth weight, low blood sugar which can lead to seizures, and increased risk of type 2 diabetes later in life.
How Hypertensive/Diabetic Pregnancy Complications Affect Menopausal Hot Flash Symptoms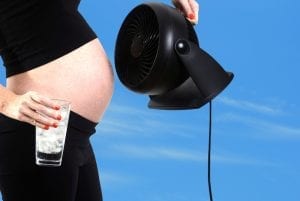 Study results presented in San Diego at the 2018 North American Menopause Society (NAMS) Annual Meeting revealed results of tests performed to analyze the effects of the above pregnancy disorders on symptoms women experienced later in life.
Over 2,200 women took part in the (SWAN) Study of Women's Health Across the Nation. The study revealed a moderate increase in the frequency of hot flash symptoms in women who had experienced certain complications of pregnancy.
Dr. Rhoda Conant, who led the study at the University of Oklahoma Health Science Center, explained that women who had experienced the above-mentioned pregnancy complications were generally heavier and tended to be taking diabetes or lipid-lowering medications.
She emphasized the significance of pregnancy complications on a woman's health later in life. Because approximately 60 to 80 percent of women are troubled by menopausal hot flash symptoms, Dr. Conant highlighted the importance of health care professionals seeking to understand the basic risk factors connected to these issues.
Hot Flash Symptoms During Pregnancy Versus Menopause
Dr. Laurie Gregg, an OB-GYN physician in Sacramento, California, says that hot flashes in pregnancy are normal. Routine hormone fluctuations, such as drops in estrogen levels, cause more than one-third of pregnant women to have hot flash symptoms, sometimes continuing after giving birth.
The wavering hormone levels continue for a time after birth, especially in nursing mothers. Hot flash symptoms due to hormone changes usually affect the chest, head and neck and are fleeting. Care should be taken to make sure the hot sensation is not fever due to infection.
Menopausal hot flash sensations are connected to vascular endothelial dysfunction, and evidence strongly suggests that hypertensive and diabetic complications of pregnancy carry over to increased frequency and severity of menopausal hot flash symptoms.


Concerns and Complications

Pregnancy Basics