According to a study conducted by researchers from the US- based Kaiser Permanent group in 2008, women who consume a lot of potatoes during pregnancy are more likely to develop gestational diabetes than those who do not. The research further indicated that increased consumption of potatoes before pregnancy increases a woman's chances of developing obesity. Do we conclude that there is a relationship between potato consumption and the development of the disease?
Relevant Research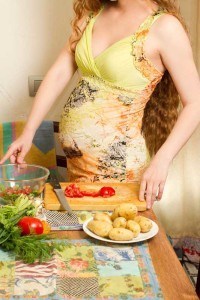 In reality, potatoes are one of the most consumed foods globally. A previous survey showed that 35 percent of women in U.S. consume potatoes daily during their pregnancy. It is very important to note that potatoes are rich in vitamin C, fiber, carbohydrates and potassium. When potatoes are consumed, a relatively large amount of carbohydrates is absorbed into the bloodstream, raising the level of sugar in the blood. Where the level of blood sugar goes beyond the normal range, there are high chances of one developing type 2 diabetes. A study on 22,000 instances of gestational diabetes that was carried out for 10 years found out that 900 of the cases (per year) were related to potato consumption. The research also indicated that these cases could be reduced by 9 to 12 percent if the patients reduced potato intake and replaced it with other foods such as grains and vegetables. A similar study recorded 854 cases among 21,693 pregnancies. When other factors such as age were assumed to be constant, it was found out that the risk of developing diabetes was very high in women who ate potatoes during pregnancy compared to the ones who did not. Women who consumed one serving of potatoes per week were 1.2 times likely to develop the condition compared to those who did not. The research indicated that the risk increased with increased potatoes consumption. 
The Effects
A significant number of women suffer from this condition during their pregnancy. As already discussed, this is because potatoes are among the most consumed foods globally. As an expectant mother, it puts you at risk of developing other health complications like:
high blood pressure
increased chances of needing a C–section during birth
It is also important that you know that the condition not only puts your life at risk but also that of the unborn child. In infants, it can pose serious health dangers such as:
breathing problems immediately after birth
higher risk of dying immediately after birth
suffering from low levels of blood sugar and other minerals during birth
Obese and over-sized babies. This causes injury to the birth canal during birth
short-term breathing problems
jaundice, a condition that can cause skin yellowing
pre-term birth
Therefore, it is very important to be careful with the types of food you eat during pregnancy to avoid health complications. Gestational diabetes can be easily avoided by observing a healthy lifestyle, specifically by avoiding foods like potatoes that have very high carbohydrate contents and engaging in regular exercise. By doing so, you not only avoid developing the condition but also protect your child from becoming obese and contracting diabetes later in his/her life. In other words, cutting on potato consumption during pregnancy is not only good for your health but also to your unborn baby.

Diet

Prenatal Health