Once you become pregnant, it can feel like everything takes on greater significance. In fact, it does, because now you are making decisions for two instead of just yourself! A concern many pregnant women express is whether exposure to fluoride in any form may effect their unborn child. For instance, should you continue to drink fluoride treated water? Should you skip your fluoride treatment during your dental checkup? This article aims to provide food for thought to help you answer that question for yourself.
What the Research Says
A particular challenge in answering this question arises while investigating what the research says about fluoride exposure during pregnancy. Here are some research studies from reputable sources that may be useful as you decide what to do.
The Food and Drug Administration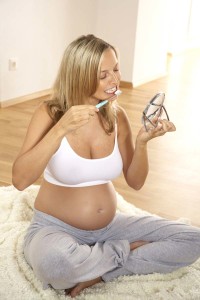 The Food and Drug Administration (FDA) has given fluoride a category B rating, which indicates fluoride will not harm a fetus in utero.
The National Center for Biotechnology Information
The National Center for Biotechnology Information (NCBI) states that while fluoride does pass through the placenta, the placenta itself begins blocking continued passage if fluoride reaches a potentially toxic level. The research goes on to cite evidence that children born to mothers who continue their fluoride intake at medically recommended levels during pregnancy will have lower incidence of cavities in childhood.
Mercola
Mercola, one of the leading natural health websites, states that fluoride use during pregnancy can be linked to anemia in the mom and preterm birth for the baby.
The Environmental Protection Agency
The Environmental Protection Agency (EPA) lists fluoride on chemicals linked to neurotoxicity and states that ingestion over a longer term period may cause nervous system damage.
National Research Council
During their review of EPA standards, the National Research Council stated that fluoride is a "known endocrine disrupter" and called for additional research into its use. Additionally, the Environmental Health Perspectives Journal showed evidence of lower IQ scores in children raised where fluoride levels in the local water are high.
The State University of New York
Perhaps the most compelling research of all comes from the State University-New York, which highlighted higher incidence of preterm births in highly fluoridated upstate New York areas when compared with communities that have low water fluoridation.
What You Should Do About Fluoride During Pregnancy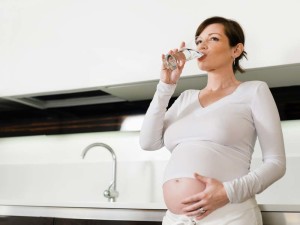 This is an incredibly personal decision, especially since the research and medical community is not yet of one mind on the risks versus benefits of fluoride intake during pregnancy. Perhaps compounding the difficulty of this choice, the Centers for Disease Control (CDC) states that water fluoridation is safe even during pregnancy. However, it is also important to recognize that many other countries have limited or even banned the practice of treating local drinking water with fluoride, citing its toxic effects as their reason. As well, while minimal doses of fluoride may pose less risk to a developing baby, it is common for pregnant women to increase water intake during pregnancy for the purposes of staying as well hydrated as possible for themselves and their child. So here, you may actually end up taking in more fluoride than usual while you are pregnant, even if you decide to skip the fluoride treatment during dental checkups. In 2007, the Fluoride Action Network asked for the total repeal of water treatment laws relating to fluoride, stating that it can be a poison to the developing brain. In this statement, the FAN also said it is not yet known what the safe level of fluoride intake is during pregnancy or at any time. But perhaps most interesting of all is this: The FAN's Fluoride Alert e-newsletter reports the FDA was not always so keen on fluoride, and at one time back in 1966 even tried to ban fluoride from any supplements or products used by pregnant women! So here, in fact, may be a path to finding your own answer, given that so much doubt yet remains about the actual tangible effect fluoride can have on the baby in utero. Evidence exists that at certain levels it may present a minimal threat, but as those levels increase, the threat level appears to increase correspondingly. You may even want to talk with more than one health specialist to assess your overall risk during pregnancy from multiple areas (including age, state of health and other factors) and, from there, decide on the best course of action for yourself and your baby.

Beauty

Everyday You