Prodromal labor has many names: false-labor, pre-labor and latent labor. These contractions begins the same way traditional labor does, however, the difference is it does not actually result in the birth of a baby.
Among its many nicknames, the irony of the name "false labor" is that the vast majority of women who experience it feel that there is nothing false about their contractions.
It is not uncommon that many women rush to the hospital and begin breathing through strong contractions, only to be told the labor they were experiencing was not real. This vicious cycle is frustrating and often hard to accurately pinpoint for many because it can present itself in a myriad of ways to different women.
Prodromal Labor Explained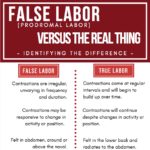 Generally speaking, false labor consists of contractions that may feel and progress expressively different from Braxton Hicks contractions. Latent labor contractions commonly operate as waves of pressure ranging from mild to intense. They might also be unvarying or consistent in frequency and duration.
Latent retrenchments can include scant spotting, pelvic or back pressure, tightening of the abdominals and vaginal discharge. Regardless, it is important to understand that false labor consists of contractions that are not making progress or becoming active labor. Even still, false labor can actually be beneficial.
The upside of this type of labor does aid women into the delivery process. For example, false labor contractions condition the uterus while prepping the cervix for dilation and effacement at the same time. As a matter of fact, it is possible for the cervix to efface as a result of dilation.
False labor may begin several days or even hours before active labor. It might even last for weeks. This process can be very confusing because it feels like true labor. These type of contractions might also feel similar to Braxton Hicks, only stronger. They might correspondingly consist of a pattern and occur around the same time daily or every night and continue for hours before they finally come to a stop.
With true labor, contractions generally become stronger, last longer and become closer together in regular intervals, lasting 30 to 60 seconds each. In addition, real labor contractions will cause discomfit in the back and lower abdomen. Contrarily, latent contractions—those associated with false labor contractions—are not consistent in duration, length or intensity and they typically will not cause addition pain in the lower back region. They may or may not be triggered by the individual's activity and sometimes home remedies make them go away.
What's Behind False Labor?
Unfortunately, there is no one answer when it comes finding the root cause of false labor. It could be as simple as stress, a long day, or too much physical activity. Many researchers believe it is simply the body's way of getting ready for true labor.
Most often, women will undergo waves of contractions that last for several days or weeks before real labor kicks in. Some birth professionals suggest that prolonged latent labor is triggered by the position of the baby inside of the uterus. However, there is no scientific evidence confirming this theory.
Remedies for Latent Labor Contractions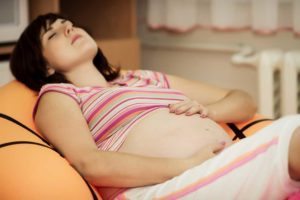 Latent labor can be physically and emotionally draining for expectant mothers, particularly after undergoing waves of strong contractions for hours or even weeks, they stop suddenly or worsen and a healthcare professional declares the labor pains to be latent. Fortunately, there are a number of varying ways to cope with this kind of labor. Most remedies entail a lot of relaxation practices.
For most women, any type of medical intervention involving therapeutic rest is key. For example, taking medicine that will induce sleep may be what the body needs in order to receive adequate rest. Additionally, staying hydrated, undergoing hydrotherapy, baths and showers may also contribute to instant relief.
Other Forms of Relaxation Practices
• Yoga
• Massage
• Acupuncture
• Changes in position
• Breathing practices
• Swimming
• Dancing or walking
In due course, avoiding practices (i.e. walking, sex, breast pumping, etc.) that could ultimately increase the intensity and frequency of contractions enough to kick start the process of cervical change would be ideal for decreasing the chances of pre-labor.
False or real labor contractions will both cause a state of discomfort and initially spark worry that the baby is coming, but knowing the difference between these contractions can help save you some unnecessary trips to the hospital. Regardless of the type of contractions you may feel, you can always ease your concerns by calling your healthcare provider to determine if you are truly in labor.

Delivery