Pregnancy after miscarriage is both beautiful and terrifying. You're over the moon with excitement to welcome a baby into your life, but you're also terrified that you'll experience the same heartbreak and trauma of losing another baby. Only a woman who has experienced a miscarriage understands the sadness and the fear that creeps into her heart when expecting after a miscarriage.
While scary, becoming pregnant again can also be an exciting period. These tips can help you make the most of this time, and they can help you increase your chances of giving birth to a healthy new baby.
The Odds Aren't Bad for Pregnancy After Miscarriage
One of the most common issues women face after a miscarriage is the fear of another. Fortunately, most women only experience one miscarriage in their lives and they're able to have healthy babies following that occurrence. It's very uncommon for a woman to experience more than one without the presence of health issues. A healthy woman has great odds of carrying a baby to full term following their first miscarriage. Your chance of suffering a second miscarriage is only about 14 percent.
Make Healthy Lifestyle Changes
Now that you're looking to get pregnant or you've recently discovered that you are pregnant after a miscarriage, there are a few things you can do to help improve your odds of having a healthy baby. One of the best things you can do is to make healthy lifestyle changes. This is the time to be sure you are eating a healthy diet, but check that what you are eating is on the list of foods that are safe for an expectant mother.
Ask your doctor about working out. It's typically fine for women to continue their normal exercise routine into their pregnancies, but you do want to be sure you're not taking on a new routine that might be too risky. Your doctor can help you come up with a physical activity plan that is safe for both you and your unborn child.
Stop smoking, drinking, and doing drugs if you have not already. You know to do this if you're already pregnant, but it's helpful to stop using these substances if you're trying to get pregnant after a miscarriage. Using substances might decrease your risk of conceiving, but it might also increase your risk of conceiving a baby that's not as healthy as it could be.
Take the Correct Dietary Supplements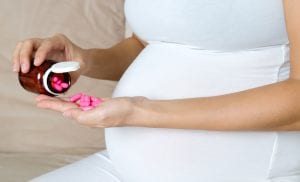 Your doctor will prescribe prenatal vitamins when you're pregnant. It's helpful to take these when you begin trying to have another baby, but you can start taking them when you're already pregnant, too. Talk to your doctor about which prenatal vitamins are right for you. You may also need other supplements depending on your personal health concerns. If this is the case, speak with your doctor about what you might need.
Don't Stress Yourself Out
This may be easier said than done, but it's better for you and your baby to remain calm throughout your pregnancy. Try not to worry about everything. Try not to overwhelm yourself with thoughts that aren't productive.
Perhaps try keeping a gratitude journal to help you write down what you're thankful and grateful for. This helps you change your pattern of thinking to reduce the stress you feel when unwanted thoughts or fears enter your mind.
Talk to Someone
Whether it's your spouse, your sister, or a therapist, it's helpful to talk through your feelings when you've had a miscarriage and find yourself pregnant again. Your fears are not unfounded, and it's helpful to talk through them. A listening ear can do a lot to help decrease your stress level. You have every right to feel the way you do, and you are not wrong to feel this way. Talking is helpful, but only when you're ready to speak to someone.
Overall
Becoming pregnant after your miscarriage is scary, but you can get through this. Call your doctor when you're worried. Don't ignore your fears, but learn how to replace them with healthy thoughts. If you're having trouble coping, don't be afraid to seek help when you need it the most. You have people around you who will help you get through this time in your life if you let them.


Concerns and Complications

Pregnancy Basics