The relatively common mental disorder known as obsessive-compulsive disorder, or OCD, has the ability to precipitate a condition that could have a major impact on pregnant women.
Obsessive-compulsive disorder is an anxiety-driven, psychological problem that causes those afflicted with the condition to either conduct the same activity and/or rehash the same thoughts repeatedly to the extent where these actions or thoughts can interfere with their daily lives. This potentially crippling disorder can be especially dangerous for pregnant women. The following brief piece discusses how obsessive behavior can complicate a condition known as pregnancy paranoia and what steps affected women can take to alleviate their manifestations.
What is Pregnancy Paranoia?
It is normal for an expecting mother to exhibit some level of concern regarding the well-being and health of her unborn child. With that being said, pregnancy paranoia develops when a pregnant mother begins to develop irrational thoughts or fears, such as the notion that her child is sick when doctors have clearly shown there is no evidence to support such beliefs.
What Triggers This Phenomenon?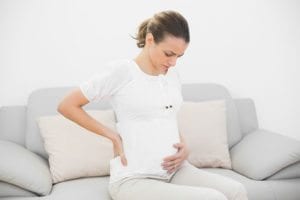 Scientific research is still being conducted to conclude what might trigger pregnancy paranoia. However, some medical experts believe the problem may result from the hormonal changes women experience during pregnancy. Yet others in the scientific community opine certain expectant mothers already possess obsessive tendencies and that pregnancy merely exacerbates the condition.
What are the Symptoms of Pregnancy Paranoia?
Manifestations of pregnancy paranoia and the degree of its severity can vary from woman to woman. The condition may first present itself through noted depression and anxiety symptoms such as the feeling of hopelessness, sadness, sleep disturbances, irritability, concentration difficulties, mood swings, appetite changes and fatigue. However, these manifestations can often be accompanied by obsessive tendencies like not trusting positive test results conducted by a doctor or even questioning the intentions of loved ones or others trying to provide physical and/or emotional support.
How Does This Condition Impact Mother and Child?
Those in the medical community recommend women experiencing the manifestations of OCD or any other mental disorder seek the help of a doctor or mental health professional as soon as the condition becomes apparent. An undiagnosed psychological problem, such as obsessive-compulsive disorder, has the potential to negatively affect an unborn child's health, as well as its mother's. The fetus is at risk of dangerous occurrences like premature birth, low birthweight, health problems, developmental disabilities and the possibility of developing mental disorders as they age. The mother risks miscarriage, preeclampsia (high blood pressure precipitated by pregnancy), potentially increasing her use of drugs and/or alcohol and neglecting her physical health.
How Can This Condition Be Treated?
Because many medications may adversely impact an unborn child, treatment of pregnancy paranoia is often geared towards finding treatment protocols that do not involve the use of drugs unless the condition's severity leaves no other alternative. Some women have witnessed their conditions improve after participating in therapeutic regiments including cognitive behavior therapy (CBT) where the mother is trained how to manage negative thoughts and emotions. Dietary changes comprised of foods that are thought to improve mood and acupuncture have also precipitated the improvement or elimination of pregnancy paranoia.

Pregnancy Basics

Symptoms and Changes