While most women turn to a pregnancy test to confirm their pregnancy, there may be extremely early signs of being pregnant that show up before an at-home test can verify the pregnancy. In fact, your body may begin to tell you that you're pregnant in just two short weeks.
If you begin to show these early signs, you may want to confirm with an at-home test soon after. A little disclaimer: Not all women experience the symptoms listed below and some women may experience just a few of these symptoms. Other women may experience these symptoms but based on the varying level of severity they may have them, some symptoms may be so faint that they are difficult to recognize.
Sensitivity To Smell And Food Aversions
The female body goes into baby protection mode when pregnant. You may become a "super taster" in order to identify the foods that will be beneficial to your growing baby. And while this sounds like a Super Woman trait, you may experience it in the form of food aversion.
Some of the foods you love may turn you off. You may gag at the idea of coffee. And the smells of certain foods or various aromas may also make you gag. This super-sensitivity to certain foods, by means of taste and smell, is due fluctuating hormone levels, in particular, the rise of estrogen in the body as you prepare to sustain a pregnancy.
Bloating
When it comes to pregnancy, hormones are the culprit behind most every change you will experience. During the start of your pregnancy, you may experience bloating, especially in the abdomen. As a result, your clothes may feel snug due to this bloating which is caused by a rise of hormones in the body. This bloating is similar to what some women feel just before getting their periods. Some women even mistake this type of bloating for period bloating which can be confusing due to a lack of a period. And this increase in abdominal girth takes place even though the uterus remains quite small in the early stages of pregnancy.
Frequent Urination
A cascade of changes in the body leads to more blood flow in the kidneys. These stimulated kidneys produce at a higher rate, filling your bladder more frequently which causes you to pee more. This frequent need to urinate begins to emerge about six weeks into the first trimester.
The blood volume of your entire body will increase as time goes along which causes you to pee even more frequently. And the baby will eventually begin to put pressure on your bladder, reducing the bladder's volume, which will cause even more increased urination. Prepare to spend a lot of time in the bathroom.
Sore Breasts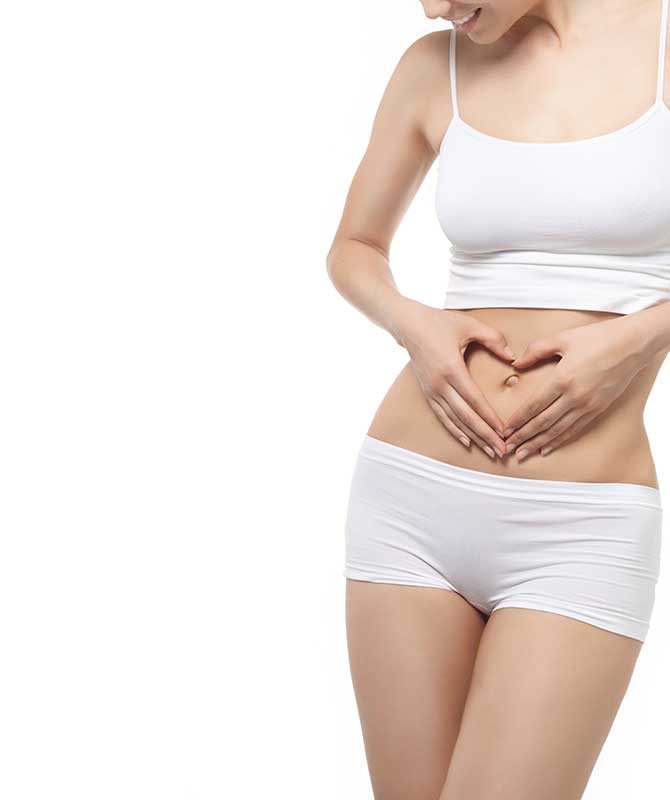 Breast pain due to pregnancy feels like an exaggerated version of the breast pain you may feel right before your period. Your breasts may begin to swell and add a bit of discomfort and pain, but this symptom subsides later in your first trimester as your body adjusts to the new levels of hormones.
Fatigue
Due to a surge in progesterone, you may begin to notice a continuous feeling of tiredness. Some women report a feeling of complete exhaustion, while others may only notice a slight amount of fatigue during the day. Regardless of the amount of fatigue you feel, this symptom typically fades during the second trimester.
Morning Sickness
While most women don't experience morning nausea until a month or two after conception, others can experience morning sickness in just two short weeks. And for some women, pregnancy-related nausea, with or without vomiting, can strike at any time of the day. This symptom also will begin to fade at the beginning of the second trimester.
Light Spotting
Some women bleed lightly right around the time of their first missed period. This may be due to the egg implanting into your uterus, otherwise known as implantation bleeding.
It should be noted that about 20 percent of women experience light bleeding during the beginning of their pregnancy. It is usually nothing to worry about, but it can be a sign of something more serious. If the bleeding is severe or accompanied by pain or lightheadedness, or if you are concerned about the bleeding at all, be sure to seek medical help.
Mood Volatility
Another early pregnancy sign may be found in your state of mind. Neurotransmitters in the brain are disrupted by surging hormones during pregnancy, which can cause involuntary mood swings. Some women report incredible highs and lows while others experience sullen moods more often.
Don't write off being stuck in a depressive mood. Seek help if you are having difficulty tending to your responsibilities due to mood swings or if you are having thoughts of harming yourself.
While the ultimate confirmation of pregnancy is with the use of pregnancy tests and/or a doctor evaluation, these are just some of the first tell-tale signs that you may be expecting.

Pregnancy Basics

Symptoms and Changes