With the number of COVID-19 cases on the rise, yet again, now is the time that every pregnant woman should understand the importance of getting vaccinated, as these vaccines have been deemed safe for pregnant women, and can help protect not only themselves but also their baby as the new Delta variant may pose an increased risk for hospitalization than previous strains of the virus.
New Delta Variant
While COVID-19 has been a devastating issue around the globe since 2020, health officials and researchers have identified a new variant; Delta variant. This new strain of the COVID-19 virus is found to spread faster than the original virus strain, as well as, cause even more severe health issues for individuals if contracted. Additionally, data continues to be reported that, though rare, even those individuals that have been vaccinated may contract the Delta variant in a breakthrough infection and spread the virus to others. The combination of breakthrough case possibility and faster spread rates has made the Delta variant quickly become recorded as the most contagious strain of COVID-19 and ultimately a more severe strain of the disease.
With the ever expanding spread of the Delta variant, researchers are finding that many pregnant women who contract the virus are actually at an increased risk for developing much more severe cases of COVID-19 than those individuals of that same age range that are not pregnant.
What Expecting Women Should Know About the Virus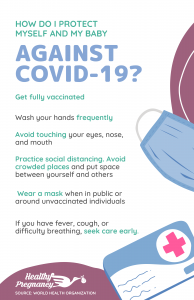 With or without a global pandemic in the mix, pregnancy is known to naturally alter an expecting mother's immune system through the course of her pregnancy. This immune system response is a necessary manifestation for the growing fetus and proper delivery, however these fluctuations can leave mom-to-be more susceptible to infection than normal.
Currently, there is no direct data to support that pregnant women are at a higher risk than non-expecting mothers of contracting the virus. However, for individuals, such as the elderly or pregnant women, who are more vulnerable to illness due to a weakened immune system, they are at a higher risk for contracting harmful germs and viruses and not be able to fight them off like those with stronger defending immune systems.
Therefore, it is extremely important that pregnant women take the necessary and recommended precautions in order to better protect themselves from the detrimental side effects of Covid-19 and the new Delta Variant.
With the increased risk for severe complications and even death, Dr. Denise Jamieson, chair of gynecology and obstetrics at Emory University School of Medicine, says the new data support the importance of pregnant women taking extra precautions to avoid exposure to the virus. In an interview with the New York Times she says, "this is new information that adds to the growing body of evidence, and really underscores the importance of pregnant women protecting themselves from COVID. It's important that they wear a mask, and avoid people who are not wearing a mask." She continues by emphasizing the importance of maintaining prenatal care visits, and receiving the COVID vaccination.
The Importance to Get Vaccinated; Especially When Expecting
Somewhere in the midst of the global pandemic, the topic of masks, social distancing and vaccines took a political spin. However, removing all politics and personal opinions, we are left with scientifically backed research and public health officials' science-supported recommendations.
Although there was a large amount of information still unknown in the beginning of the pandemic, there is now enough research and evidence that supports the use of mask wearing, social distancing and the use of vaccines and their safety when administered to pregnant women. There are no specific major safety concerns for pregnant women regarding vaccine administration and most health professionals recommend expecting mothers to get vaccinated.
According to recent data collection from the UK Obstetric Surveillance System (UKOSS), it has been documented that 99 percent of expecting women that have been admitted to hospitals since May 2021 as a result of COVID-19 have been unvaccinated individuals. For those women who remain unvaccinated, there are risks to both mother and baby, including; increased risk of pneumonia, respiratory support, preeclampsia, infections, extended hospital stays, intensive care needs, preterm birth, neonatal care needs, and low birth weight.
The answer is simple, is science-based, and lies in the vaccine. While the COVID-19 vaccine is not a cure or a free pass for avoiding COVID-19, it can greatly help lessen the severity of symptoms if contracted and reduce the spread of the virus. In order for individuals to best protect themselves and their baby, they should get fully vaccinated to ensure they have the best chance at protecting themselves and their unborn baby. In addition, pregnant women should continue proper mask wearing when out in public or around non-vaccinated individuals, and practice social distancing when around individuals from different households.


Concerns and Complications

Pregnancy Basics