The immune system changes throughout pregnancy. These fluctuations have implications both for the mother's health and that of the unborn child.
The Importance of the Immune System
The immune system is a very complex system of the body consisting of many different cells, tissues and organs. The function of the immune system is to protect the body from microscopic foreign invaders including harmful bacteria, viruses, parasites and fungi that cause disease. When your immune system is weak or compromised, infection and disease are more likely to occur. If you had no immune system at all, you would die of infection very quickly.
Therefore, the immune system is very important during pregnancy to protect the unborn child. Since the child has not been born yet and therefore has not had a chance to develop his or her own immune strength, it's crucial that the mother's body is able to carry this responsibility. The latest studies give us new information about the way the mother's immune system behaves while she is pregnant.
The Immune System During Pregnancy
Human anatomy and the way it works is unimaginably complex. This is also very true of the expecting mother's body. Every year, more and more new research findings on prenatal health are published. Scientists are still investigating the complex interactions between a mother's immune system and the developing child. The previous thinking was that the mother's immune system must be repressed throughout all three trimesters in order to keep it from perceiving the fetal tissue as a foreign invader and therefore attacking it. However, contemporary research has revealed that this is not the case; in fact, it is essentially the opposite, with the mother's inflammatory immune response being necessary for the successful implantation of the embryo.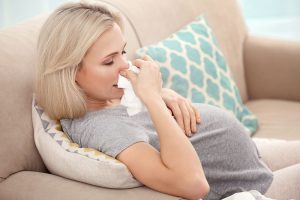 Some of the most recent research also shows that an expectant mother's immune system goes through different cycles the whole time she is pregnant. After implantation of the newly formed embryo, the maternal immune system creates an inflammatory environment. This endures for the first trimester. In the next few weeks after that, anti-inflammatory immune cells reverse this. In the final trimester, the mother's body once again enters an inflammatory state. Without this, labor cannot occur.
This new knowledge about pregnant mothers' immune system function may have important implications for prenatal and fetal health. Because an inflammatory immune response is necessary for labor to occur, researchers speculate that immune abnormalities could be responsible for many cases of preterm birth. Since one in 10 infants in the United States is born premature, researching this link in greater depth could lead to the prevention of many health problems and one million annual deaths caused by preterm delivery.
The proposed link between premature birth and maternal immune function may not only be because immune inflammation is necessary for delivery. Because the mother's immune system is in flux the whole time she is pregnant, she can be more prone to infections than normal. It is thought that about 40 percent of preterm births are at least partially due to some type of infection. There is also some evidence that prenatal infections, whether viral or bacterial, could raise the child's risk for allergies as well as more serious disorders such as schizophrenia later in life. For reducing the risk of preterm delivery and ensuring the development of as healthy of a child as possible, it's important for mothers to do what they can to keep their immune function up.
How to Strengthen Immunity
Get plenty of sleep, at least seven to eight hours every night. Being pregnant is a very good reason to let yourself take naps whenever you need to.
Do 150 minutes of a low-impact aerobic exercise every week.
At meals, fill half of your plate with fruits and vegetables. The more colors of fruits and vegetables, the better.
Avoid stress in your life and find ways to prioritize relieving stress.
Some women take natural herbs to boost the immune system such as elderberry, echinacea, calendula, garlic, cat's claw, astragalus, ginger, licorice root, oregano and olive leaf. Ask your doctor if a supplement is safe for you to take.

Symptoms and Changes