Space is something many parents-to-be struggle with when designing a room for their baby. Here are a few tips to help make the best out of limited space.
Preparing for the arrival of a newborn can be an equally exciting and nerve-wrecking process. There are things to buy, things to do and things to learn. Creating a living space for the newborn is a very important component of this process. Whether living in a house or an apartment, many couples find it difficult to find enough space to create their desired nurseries. Fortunately, there are several tips and tricks that can help make the most of the available space. Sometimes the trick is making smart and efficient use of the space rather than worrying about making more of it. Here are a few of the most helpful pieces of advice on space-saving for the new nursery.
Light Colors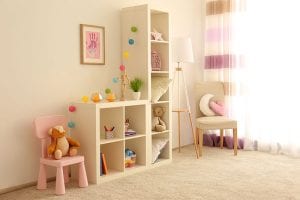 Color is one of the first things that parents-to-be may consider about a nursery. The classic color choice calls for pink for a girl and blue for a boy. While this cliché may be somewhat outdated, it isn't too far from the correct choice. For small nursery spaces, it is important to choose a lighter color palette. This will give the room a brighter, more vibrant atmosphere that will help fight against the compact space. Darker colors will just make the baby's room feel like a small cave, which is not a very welcoming atmosphere for a newborn.
Let the Light In
Small spaces often feel confined. Allowing some natural light into the room can do wonders for the feel of the space. If the room has windows, it is advisable to allow the light to enter the room without completely obscuring it. This can be accomplished by having a lighter color and thinner blinds. Those small spaces that do not have a window can be accented with the use of artificial lighting. The general idea is to allow the space to be illuminated in order to make it feel more spacious.
Folding Is a Friend
Folding or collapsing furniture is a life saver when it comes to making the most of small spaces. While immobile furniture takes up significant space, foldable alternatives can help make the space more versatile. Folding furniture takes up space only when it is being used. For example, instead of investing in a bulky changing table, there are several folding alternatives that will save loads of space. Some of these are based on a wall-mount in order to take up no space on the ground. Search online for foldable alternatives to common nursery items.
Make Use of Unused Space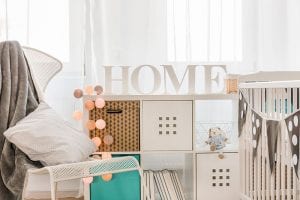 Although a small room may seem to have no extra space, a more prudent search may reveal some. Whether using a bed or crib, there is almost always room for storage underneath. Some cribs even come with built-in storage containers, which are a great option for increasing organization. Shelves can be installed on walls with empty space. The closet is another area of untapped space potential in small rooms. Things can be placed underneath or above the clothing. Storage bins can be used to help organize the space.
Get Rid of Clutter
Minimalism is the best friend of small living spaces. When dreaming up their baby's new room, parents may be inclined to include a number of unnecessary furniture items and adornments. While this may be plausible in a bigger room, a minimalist mindset will have to be exercised when working with limited space. For this reason, it is important that all clutter is removed from the nursery-to-be. Only the necessary components should remain. After the absolute necessities have been decided on, parents can begin brainstorming the best way to organize the furniture and decorations.
While a small space is not fun to deal with, it does not have to be an impossible obstacle. With a little intuition and creativity, parents-to-be can make a beautiful baby room out of it. Lighter colors and sufficient natural light can help open up the space and feel of the room. Foldable furniture and a minimalist approach should also be considered to maximize the use of the space.

Preparing at Home

Preparing for Baby