Traveling during pregnancy can be a worry for many expectant mothers, which is no surprise when you consider all the planning that goes into it, not to mention the upheaval of heading to a new destination.
However, a change of scene can also work wonders for our health and wellbeing, giving us time to recharge our batteries and refocus on what's important to us. This can be especially helpful when you have a new arrival on the way. We put together a guide to staying healthy when traveling pregnant, so you can plan a well-deserved, pre-baby getaway. Here's what you need to know:
Speak to your doctor before you do anything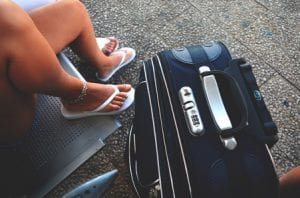 Travel can be stressful at the best of times, never mind when you're pregnant, so a visit to your doctor will help put your mind at ease. They'll also be able to give you advice and write a letter clearing you to fly (if needed — some airlines only require this from 27 or 28 weeks onwards. To find out how to get a clearing letter, check out Holidaysafe's pregnancy travel guide).
Get the facts about vaccinations
There's a lot of confusion surrounding vaccinations and what is and isn't suitable.
As a rule:
Inactivated vaccines are safe for pregnant women.
Live vaccines are not recommended for pregnant women, in case they affect the fetus.
It's better to get vaccinated than not if you need to travel somewhere where vaccinations are required.
Generally, it's better to travel somewhere where no vaccinations are required, so do your research before deciding on a destination. For more information about pregnancy and vaccinations, you can visit the NHS website.
Choose the timing of your trip carefully
The majority of — if not all — medical professionals and expectant mothers would agree that the second trimester is the best time to travel. During the first you're more likely to experience nausea and morning sickness, and probably won't be willing to stray very far, whereas exhaustion takes over in the third trimester.
Many airlines will prevent or limit pregnant women flying from 37 weeks. And if you're going on a cruise, you won't be able to travel from 24 weeks, due to the lack of medical provision for premature babies on ships.
However, in the second trimester your body will have adjusted to all the hormonal changes and you'll feel more settled. You'll also have more energy and that beautiful pregnancy glow. It's around this time — from 13 to 28 weeks — that you'll be more likely to appreciate the benefits of some time away.
Take out a good travel insurance policy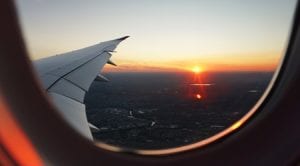 Travel insurance is a priority for everyone and it's especially important when you're pregnant. Many policies cover pregnancy as standard, but make sure yours also covers any conditions that have been caused by pregnancy, plus labor and premature delivery. You also need to be covered if you need to change the date of your return trip.
Stretch your legs
Pregnant or not, there's a risk of blood clots when you fly. This is known as DVT, which stands for deep vein thrombosis.
How to reduce the risk of DVT:
Sip water regularly throughout the flight.
Stretch your feet and ankles every 30 minutes.
Stand up and stretch your legs when you can.
Wear compression socks to reduce swelling.
Click here for a list of stretching exercises you can do on the plane.
Always pack water and snacks
There's nothing worse than needing a drink or a bite to eat and not having any refreshments to hand. Carry a refillable water bottle with you and top it up whenever you can, and pack a few snacks to give you an energy boost and keep your blood sugar levels stable. Wholemeal crackers, fresh or dried fruit, and nuts and seeds will all keep hunger pangs at bay and give you a boost of nutrients, too.

Everyday You

Work and Pregnancy