A postpartum checkup is a medical checkup that women go through immediately after giving birth to ensure they're recuperating well from labor and delivery. Every new mom must go for a medical checkup no later than 10 weeks after giving birth since women are more vulnerable to life-threatening health complications right after giving birth.
While it is universally accepted that giving birth is extremely hard for any mother, the postpartum period can be equally mentally and physically challenging. This initial six-week phase, also known as the puerperium period, commonly includes symptoms such as pain in different areas of the body, vaginal bleeding, abdominal cramping, difficulty urinating and constipation. All of these go away with time, but it is incredibly important to schedule a postpartum checkup six weeks after giving birth.
In fact, new guidelines have been set by the American College of Obstetricians and Gynecologists (ACOG): Women should ideally get their initial postpartum checkup approximately three weeks after giving birth, another at six weeks and a more comprehensive visit approximately 12 weeks postpartum. This post will explain some of the typical symptoms mentioned above as well as what goes on during a postpartum checkup.
Common Postpartum Symptoms
Common postpartum symptoms among women vary greatly, as well as women's recovery times and lasting effects on the body. The physical changes to the body, such as pain, bleeding, abdominal cramping, difficulty urinating and constipation all dissipate rather quickly.
Pain in the body after delivering a child is usually felt around the vagina, lower back, stomach and breasts. Bleeding is usually limited to the vaginal area. Abdominal cramping can be felt in both the stomach and uterine areas.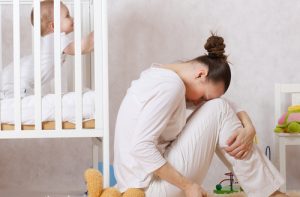 On the other hand, common non-physical symptoms such as postpartum depression and mood swings can be present. These can be much harder to diagnose and treat at your postpartum checkups, so it's incredibly important to be upfront with your doctor about how you are feeling about how childbirth went, your child and your life now.
You should also ask any question you have, as all questions are important and you're likely not the first person to have them. Additionally, it is entirely natural to have feelings of depression and general sadness for up to two weeks postpartum, but if those feelings persist, it could be an indication that other issues are causing the feelings of sadness.
5 Reasons Why Your Postpartum Checkup Matters
The postpartum period is a sensational and vibrant time in a woman's life. The doctor plays a significant role in ensuring new moms have a smooth transition through this period. Below are some of the reasons why postpartum visits matter.
Optimize Postpartum Checkups
The period after birth is critical for both mother and baby. To optimize women's and their infants' well-being, postpartum care should be a continuous process rather than a one-time visit. New moms are encouraged to maintain contact with their gynecologists or care providers within the first weeks after birth.

Postpartum Basics

Postpartum Depression