Women experience myriad symptoms when they're pregnant. One of the more irritating ones is pregnancy rhinitis, or sinus issues, when you're expecting.
If you already have seasonal allergies, you may be prepared for this pregnancy symptom. Your nose will start running, dripping and generally cause irritation in your everyday life. It's fair to wonder what causes this type of rhinitis. In terms of treatment, fortunately, there are many options available to you.
What Is Pregnancy Rhinitis?
Pregnancy rhinitis is a type of nasal congestion that affects pregnant women. Typically, it lasts six weeks or longer and affects around 18 to 42 percent of all women who are pregnant. Usually, it strikes during the first trimester and disappears later in a woman's pregnancy.
At the same time, the condition can appear at any time in pregnancy. It usually goes away within two weeks after you've had your baby.
What Are the Symptoms of the Condition?
When you develop rhinitis during your pregnancy, there are certain common symptoms you may experience. The typical symptoms include the following:
Nasal congestion
Runny nose
If your symptoms are overly bothersome and you notice a significant change in stuffiness or drainage of mucus, you have a fever or generally don't feel well, consult with your doctor as soon as possible.
Rhinitis Is More Than Simply a Stuffy Nose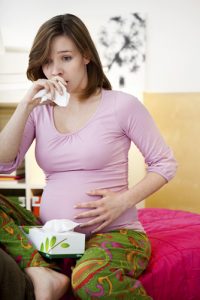 Pregnancy rhinitis causes inflammation of your nose's mucus membranes. This is why you experience congestion, sneezing and a runny nose. The blood flow in your nasal passages also increases as does blood flow in your body as a whole during pregnancy.
It is also believed that the condition is caused by the surge of hormones that are prevalent during pregnancy, including estrogen and progesterone.
Unfortunately, your sleep may be disrupted when you experience rhinitis. Your congestion worsens when you're lying down, which can lead to the development of additional problems. On top of being overly tired, you may also develop a sinus infection or even an ear infection.
Is the Condition Dangerous During Pregnancy?
Pregnant women and their unborn babies are at risk of certain harmful side effects when rhinitis is an issue. The mother can suffer a sleep disorder, which can prevent the baby from receiving the right amount of oxygen necessary to properly develop.
It's important to speak with your doctor if you are suffering from rhinitis, snoring or waking up often during the night.
What Causes Rhinitis During Pregnancy?
Although pregnancy rhinitis is very common and often harmless, there are times when it can become a problem. Pregnancy itself causes the condition to develop.
A woman's body naturally goes through many changes. Some of those can lead to the development of rhinitis. As previously mentioned, increased blood flow in the nasal passages, specifically to the mucus membranes, is one cause of the condition. When your nose begins to swell, you may have more congestion and a runny nose.
In some cases, pregnancy rhinitis is caused by allergies. Around one-third of women of childbearing age suffer from allergies. However, when they develop rhinitis due to pregnancy, the symptoms can be worse than those caused by their allergies. Sneezing, sinus itching and even severe nasal obstructions are common.
Treatments for Rhinitis During Pregnancy
During pregnancy, it's important to be cautious when taking any medications, including those that are sold over the counter. Many medications and herbs can be harmful to your baby, so the best way to treat your rhinitis is to use natural methods. Here are some of the best treatments to ease your symptoms:
Avoid using over-the-counter nasal decongestants
Drink plenty of fluids
Use a humidifier to increase your home's humidity levels
Avoid any irritants that can worsen your symptoms, such as cigarette smoke
Incorporate exercise into your daily routine. Moderate activity can relieve your congestion and even help you sleep better. Always check with your doctor first to determine exercises that are safe
Use an extra pillow or raise the head of your bed to keep your head elevated
Use saline spray or nasal strips
Speak with your doctor about your pregnancy rhinitis to find the best solutions for you and your baby.


Concerns and Complications

Pregnancy Basics