Items known as breast shields could prove vital to new mothers. Also referred to as nipple shields, these synthetic structures are placed by nursing mothers, over their nipples, during the breastfeeding process.
The Purpose of Nipple Shields
Typically, these products are used by women who are experiencing difficulties getting their newborns to properly latch onto their breasts during feeding. Additionally, they might be suggested for women dealing with issues like sore nipples or minor injuries following feeding. Sore nipples could progress into blisters that, if left untreated, could precipitate infections. In many instances, healthcare professionals opine that nipple shields should only be used after every other option for natural breastfeeding has been exhausted.
Benefits of Using Nipple Shields
Although some members of the medical community believe that nipple shields should be utilized as a last resort, these professionals also suggest that the most important factor is to ensure the baby receives proper nutrition.
Potential Disadvantages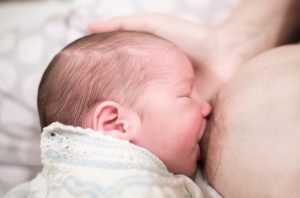 Breast shields are thought to possess several possible disadvantages:
Plugged Ducts – If the shield is not appropriately attached, the mother's breasts could be subject to mammary obstructions, which will likely require medical intervention.
Increased Infection Risk – A phenomenon called reduced milk transfer might precipitate the development of mastitis, which is potentially serious inflammation of surrounding breast tissue.
Diminished Feeding – If the shield is not properly installed, the baby might be at risk of receiving an inadequate milk supply, which could ultimately lead to nutritional deficiencies and developmental issues.
Weaning Issues – Promoting the weaning process might be more difficult when utilizing breast shields.
Identifying the Most Compatible Product
The size and shape of the nipple shield a new mother chooses will depend on breast size, shape and contour. The product is usually comprised of one of two substances, silicon or rubber. Nursing experts opine that, while the rubber products can prove effective, the silicon variety is usually recommended.
Precautions That Should Be Taken
To ensure that the shield is properly attached and functioning, users are advised to exercise some precautions:
Measure Baby's Milk Intake – Typically, a well-nourished newborn will urinate at least six times and defecate three times in a 24-hour period. Ergo, the infant's diapers should be checked to make sure the excretions are taking place.
Breast Softness – Following a feeding using a breast shield, the mother's mammary glands should feel soft. Should this not be the case, the baby might not be receiving adequate nutrition.
Baby Swallowing – Infants obtaining proper nourishment through the breastfeeding process will swallow frequently. This indicates the child is ingesting milk.
The Weaning Process
Weaning with a nipple shield could be challenging. However, this process might happen with greater expediency and efficacy provided the mother keeps the baby's body turned toward hers, waits until the baby opens the mouth before attempting to latch the shield on, breast feeds frequently, sways or moves in some direction while the process goes on and ceases feeding immediately if the infant becomes agitated.

Breastfeeding

Postpartum Basics