From the very beginning of your pregnancy, you and your baby depend on your diet to provide the energy you both need from the right balance of proteins, sugars, vitamins and minerals.
Eating a balanced, healthy diet and providing just the right nutrients during pregnancy means:
Fewer complications during pregnancy and birth
Reduced probability of congenital defects
Reduction of the risk of premature birth
A healthier baby at birth
Your own well-being is strengthened and ensured
Whether it's a meal or a snack, make sure that every time you eat something, it's balanced, meaning it includes carbs, protein, fat and fiber. By making this a habit, you are sure to get adequate nutrients during pregnancy.
In addition, be sure to drink plenty of water. This will help you to feel full between meals and adequate hydration is important for both mother and baby health.
Proper Meals Each Day
For pregnant women it is common that in addition to the three main meals of the day, they will usually have three snacks as well, each one spaced sometime after the main meal. This doesn't happen immediately, but it starts to become a routine after the first trimester and especially during the third trimester. Not just for caloric intake purposes, this is especially helpful because eating a large meal probably won't be possible due to stomach discomfort or digestive issues.
A Daily Menu
While it can be asking too much to expect a mom-to-be to cook and eat from a specific list of foods divided into specific meals spaced throughout the day, a chart of this type can serve more as a guide.
An example of this type of one-day nutritional plan to work with is as follows. This guide can work for you each day by substituting any of the foods listed for another food in the same food group or by cooking the listed foods in different ways.
Breakfast:
Oatmeal, banana, 1 slice whole wheat toast, 2 tsp jam and 1 cup skim milk
Snack:
1 cup yogurt and grapes
Lunch:
Turkey and cheese sandwich on whole wheat bread, small bag potato chips, pear and 1 cup skim milk
Snack:
Raw veggies and low-calorie dip
Dinner:
4 oz chicken, 1 cup wild rice, 1 cup veggies and 1 cup skim milk
Snack:
Fresh fruit or low-fat frozen yogurt
Alternative Food Choices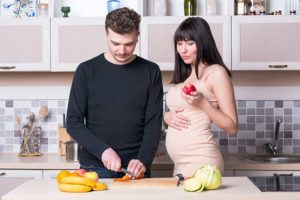 While pregnancy means that some foods are restricted and must be cut down or cut out entirely, it doesn't mean the options are limited. Instead of oats, replace them with wheat berries. Have it hot and ready to eat first thing in the morning by tossing it in the slow cooker the night before.
Take oats and make granola or muesli instead of your usual oatmeal. Brown rice can not only be a side dish for dinner it can be cooked up and made into a pudding or rice cereal. Rolled barley flakes are another alternative for your breakfast cereal.
Instead of drinking it plain, skim milk can always be added to your breakfast grain of choice and even to rice to make it milkier, creamy and moist. Toast and milk can be replaced with whole wheat crackers and a low-fat cheese or yogurt.
Be sure to also watch the overindulging and make healthy substitutions for your food cravings. For example, substitute potato chips with carrot chips, popcorn or a half of a baked potato.
Choosing raw veggies is easy and the only limit is what your taste buds and stomach can handle. Zucchini, carrots, fresh salad, radishes, cucumbers and broccoli are all popular choices.
Popular substitutes for chicken can include turkey and fully cooked and prepared fish or soy proteins, such as tempeh, tofu and TVP for a vegetarian option.
Recent studies in chronobiological approaches reveal how, in addition to a healthy diet, you can ensure that your baby gets the complete range of nutrients it needs in the prenatal phase through proper chronobiological-based supplementation.
Of course, there will be a day or two during your pregnancy where despite your best intentions, you will not be able to stick to a diet that supplies you with the perfect amount of nutrients. If you aren't wanting to make a compromise for your unhealthy food cravings every now and then, that is OK, and it is expected. This is also one of the reasons it is so important that you take prenatal vitamins daily and make a healthy diet a top priority for the majority of your pregnancy.

Diet

Prenatal Health