An area that new parents often struggle with is how to discipline their children when they misbehave. Science backs this up, too: Global data shows that toddler temper tantrums begin to manifest around the 18-month mark and continue all the way until they turn two and beyond.
Wanting to do everything right, parents question whether they should exercise discipline and punishment for their child's actions or reserve criticism until they're older. If you're dealing with an unruly child and desperately need order and control in your household, here's what you need to know.
Set Clear and Unmoving Boundaries
As adults, we know how to act civilized and orderly with one another, largely because society defines clear-cut goals between what's considered "good" and "bad." When left to fend for ourselves, chaos ensues, and before we know it, civilization comes crumbling down around us.
Now that we've thoroughly terrified you (sorry!), parents must set easy-to-understand rules and regulations around the home. Moreover, parents must verbally enforce acceptable and unacceptable behaviors when they see them unfold.
When you notice your children playing with their siblings, sharing their toys or attempting to express themselves, make sure they know you're proud! Conversely, a gentle "no" will let your child know when they're acting in a way that could lead to toddler temper tantrums and emotional outbursts. Although this may seem challenging to do at first, it sets clear and defined goals that their young minds can understand and comprehend.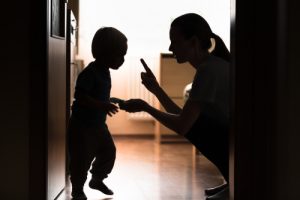 As parents, our job is to make sure our rules and regulations aren't changing throughout the day or when we're in a bad mood. If you're guilty of saying something is "OK" one day, only to punish your toddler for the same action at a later date, your child will be confused and encouraged to lash out. Instead, stick by your guns and make sure you're doing your part by establishing long-lasting standards in your household.
Find Productive Outlets to Deal With Toddler Temper Tantrums
Let's face it: even though we define rules and regulations around the home for our children to follow, sometimes they want to be ornery! While it's funny to remind them of their mishaps from their toddler years when they're older, nothing can cause anxiety and stress like a child who won't listen.
If you're at your wit's end and can't put a stop to toddler temper tantrums, it's time to get creative! For some children, finding an artistic or athletic outlet helps them process negative emotions and deal with their anger in a productive way. Each child has his or her own unique personality, so here are some ideas to get the ball rolling:
Playing with toys
Wrapping them up in their favorite blanket
Coloring
Watching movies
Listening to music
Painting with watercolors
Building blocks
Riding their bike
For some toddlers, using their energy in a constructive way will make their negative emotions melt away in minutes.
Be Reasonable and Understanding
While trekking through life as adults, expressing our dissatisfaction about a problem, understanding our feelings and moving on from a topic comprise a productive framework for overcoming an emotionally-charged situation. But when we notice our toddlers acting out, we expect them to ignore their emotions and, for lack of a better term, "get over it."
We encourage you to provide leeway for your toddlers to express themselves and "get over it" in their own way. While you should always correct unruly behavior when it persists for long periods, brief bouts of toddler temper tantrums, sadness and irritability from your child are normal. If the emotional outburst lasts longer than five or ten minutes, you can implement your means of discipline and course correction.
Separate Their Identity From the Action
Lastly, parents are encouraged to be gentle and understanding through their toddler's temper-tantrum phase. In most instances, children have no malice behind their intent, and your opinion of their behavior should reflect that notion.
When correcting a child for their negative behavior, try your best to differentiate their identity from the actions they're performing that upset you. Reiterate that your love for them is separate from their ornery behaviors and that you will always have their best interest in mind.
When all else fails, ask them why they're upset, emotional or acting out in defiance. By listening to their side of the story, you can learn how to diffuse the situation and soothe their temper.

Postpartum Basics

Work, Life, Baby, Balance