The thought of going through labor pain is anxiety-inducing for women who are approaching that stage of pregnancy. With some reports showing that certain women struggle with labor pain for days, stress and dread begin to mount. But there has to be a way to relieve labor pain effectively, right?
With the modern advancements in the medical field, what options do soon-to-be mothers have to reduce their labor pains and feel comfortable in the process? If you're ready to bring a new life into this world, here's how to restore your inner power and come out the victor on the other side.
Using a Comb During Labor
Many newfound moms have used an odd technique to reduce their labor discomfort substantially. Even better, it doesn't require outside assistance from the nursing staff or your doctor, and your partner will thank you for not breaking his or her hand by squeezing too hard!
Before heading to the hospital to deliver your child, make sure to throw a fine-tooth comb in your luggage. While this item may seem trivial at the moment, many mothers have used the teeth of their comb to curb labor pains and reduce stress during the delivery process.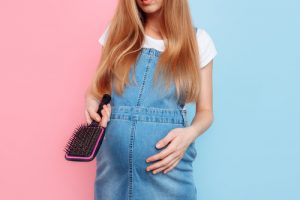 To use this method, put the teeth of your comb in the crevice where your fingers meet your palm. If this sounds confusing, examine your hand and find the skin right above where calluses typically form on your palm. This area is your target spot.
When your cramps and aches begin to manifest, gently squeeze your comb, pushing the teeth into the delicate skin in your lower fingers. Go ahead and try it now to see how the sensation feels in a regular setting.
For most readers, the gentle sting won't feel like much of anything. But when a mother is in the throes of childbirth, the controlled squeeze can relieve labor pain and soothe her anxiety.
Why Does This Work?
Medical professionals believe squeezing a comb works to relieve labor pain by stimulating acupuncture points running through the top of the palm and lower region of your fingers. Moreover, dispersing painful sensations throughout multiple areas of the body lessens the discomfort across the board. This fundamental belief helped create effective pain-relieving treatments, such as electromagnetic therapy.
If you think this behavior is too silly to work, think back to when you experienced a minor or serious injury. If you're anything like the average person, you bit your lip, clenched your jaw, squeezed your partner's hand or recoiled to deal with the pain.
While each of these behaviors provides mild discomfort on its own, dispersing your agony over a larger area reduces the overall pain you experience at the moment. In the same way, squeezing a fine-tooth comb to trigger discomfort in your hand is an efficient way to relieve labor pain and discomfort.
Should You "Comb It Out" When It's Time to Deliver?
If you're nervous about giving birth and want a way to reduce labor pain, squeezing on a fine-tooth comb may provide a solution for your woes. More importantly, the comb can act as a psychological anchor mechanism that relieves anxiety, worry and stress that inevitably come when giving birth.
If all else fails, you'll have a tool to make your hair look amazing while giving birth to new life! All jokes aside, you have nothing to lose and everything to gain by trying the comb technique. Tens of thousands of moms swear by this method, so what are you waiting for? Toss a comb in your bag before heading to the hospital to relieve labor pain and anxiety you may experience.

Delivery

Pregnancy Basics