Are you experiencing severe mood swings during pregnancy? If so, you're not alone. Understanding why it's happening can help put your mind at ease.
Perhaps you're typically a centered woman. Yet, ever since becoming pregnant, you suddenly find yourself extremely irritable or randomly depressed. Why is this happening? Severe or mild mood swings are common in pregnancy, though not all women will experience them. It's also not your fault. Here's why you might be experiencing mood swings.
When Do Mood Swings During Pregnancy Occur?
Typically, women experience mood swings during the first trimester. This is six to ten weeks after conception. They can also come back during the third trimester when your hormones shift again in order to prepare for birth. Most mood swings will stop after you have given birth and your hormones are able to return to their normal levels.
How can your mood be affected by your pregnancy? There are quite a few factors behind mood swings. Here are a few of them.
1. Hormonal Imbalances
Your body experiences an influx of hormonal changes when it's pregnant. In order to become pregnant, the body first increases the amount of androgen in the body. This helps ovulation and increases the chances of fertilization.
Androgen, sometimes called testosterone, is primarily present in men. It's responsible for hair growth on the face, chest and back area. Women who have a high amount of androgen in their bodies may experience unwanted hair growth and aggression. Until those levels decline, you'll likely feel irritable for some time.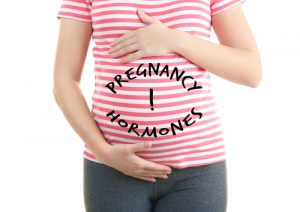 Another big hormone that is put into play is progesterone. In particular, progesterone develops quickly in the first weeks after you become pregnant. It's responsible for helping the fetus grow strong. You're going to experience quite a few mood swings thanks to the increased levels of progesterone. After the placenta is formed, the levels will finally return to normal.
Estrogen levels are increased as well. When you're pregnant, your body produces 100 times the normal amount of estrogen. This hormone is responsible for several steps during the pregnancy including the growth of the baby's adrenal gland and maintaining the health of the placenta. This hormone is also responsible for making you feel nauseous and experiencing headaches.
Oxytocin is a hormone that is produced in the later stages of your pregnancy. Its job is to help your cervix and uterus open for the delivery of the baby. It also plays a role in signaling your nipples to start leaking milk. Many women consider this hormone to be the bonding hormone. If it's overproduced, you may feel especially emotional—whether affectionate or sad.
While hormones are typically to blame for mood swings, they can also influence other events that can trigger changes in your mood.
2. Fatigue
One of those influences is how well you sleep. Hormones play an important role in how much sleep you receive as well as the quality of your sleep. Pregnancy can already make staying asleep difficult. The constant need to get up and use the bathroom can make you tired all on its own.
Yet hormones can also be blamed for insomnia you experience. Because you're not receiving a restful amount of sleep, you're likely going to become more irritable. This is because your body's nerves are on end. You weren't able to produce the hormones that invoke feelings of calm and relaxation due to the lack of sleep that you received.
An easy way to fix this is just to make sure that you receive plenty of sleep. That might mean throwing in a few naps during your day. You may notice that your mood swings during pregnancy are significantly better after a few nights of good rest.
3. Stress
Pregnancy is a stressful time. Your health and the baby's health are constantly on your mind. Stress can also influence your mood. A good portion of your mood swings during pregnancy could be simply due to stress. Since stress isn't good for the baby either, it's important that you find ways to help calm yourself. Try doing some of the hobbies that make you feel good or calm.

Emotional Balance

Everyday You