Ultrasounds have been used for years during pregnancy. In addition to traditional 2D ultrasounds, some OB-GYN offices offer new 3D and 4D ultrasounds, which provide a newer and fuller picture than traditional ultrasounds.
The purpose of ultrasounds during pregnancy is to determine whether or not a fetus has a structural problem, if it is growing normally or to recognize any concerns that may become more complicated down the road. In addition, ultrasounds can be used not only during pregnancy but also during labor, and alongside another diagnostic testing to screen for fetal abnormalities. Thus, the benefits of ultrasounds are not only beneficial but appreciated by specialists and the public, but some parents remain reluctant to subject their unborn children to this procedure during pregnancy.
In short, the good news is that during pregnancy, the risks associated with using these 3D and 4D ultrasounds are similar to those of other routine medical procedures.
2D, 3D, and 4D Ultrasounds
An ultrasound is technology that provides a way to look inside the body with high-frequency sound waves. When used during pregnancy, ultrasounds create images of the fetus on a computer screen for viewing and printing. These images are created by bouncing sound waves off the fetus and then picking up those waves by a machine that typically resembles a flat-screen television. While all three types of ultrasounds provide generally the same service there are significant differences between them.
A 2D ultrasound involves simple, black-and-white images and is sometimes used to monitor the fetus if there is concern that the pregnancy may be at risk.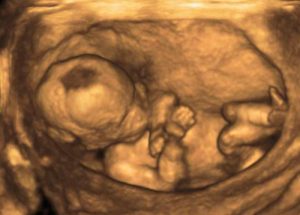 3D ultrasounds or ultrasounds with color doppler imaging, allows for more detailed fetal imaging than 2D ultrasounds, including clearer views of the face, hands, and feet and exact measurements of the fetus.
A 4D ultrasound provides a series of 3D images, which are put together to form a low-resolution video of the fetus in motion. These 4D ultrasounds are sometimes used by parents to help form a connection with their unborn child and celebrate the pregnancy in a more visual way.
How the Tests Are Done
It is normal for young women to want to know about the health of their developing fetus, and most doctors will perform 3D or 4D ultrasounds during the first trimester of pregnancy.
Regardless of the type of ultrasound, routine pregnancy ultrasound exams require no preparation. During these exams, the mother can lie comfortably on her back, or in a reclining chair. All that mother's will be asked is to remove any jewelry and preferably wear loose fitting clothes for easy access and more comfort during the exam. For some doctor's offices, patients may be requested to wear a patient gown during the procedure.
Ultrasounds take approximately 30-minutes to an hour and are done by a trained technician known as a sonographer. To perform the ultrasound, a thick water-based gel is applied to the abdomen. This gel helps ensure sound waves are received and sent in a fluid manner for best imaging. Next, a small hand-held device known as a transducer is placed and moved slowly around the mother's abdomen, while an ultrasound machine scans the mother's stomach and creates images of the fetus. The wand-like transducer emits high-frequency sound waves of continuously varying frequencies. These waves are refracted by the various shapes of the fetus in the abdomen, and the waves that are returned to the transmitting transducer are gathered by the computer to generate an image.
Safety and Risks Involved
For women who are expecting, ultrasounds can be a very safe procedure. Whether it is a 2D, 3D or 4D ultrasound. Although exposure to large doses of ultrasonic waves may cause problems for the fetus, the levels used in a diagnostic testing ultrasound do not cause any damage to the unborn child as the sound waves are low-power.
Ultimately, for women nervous about an ultrasound, rest assured that these diagnostic tests are considered a safe procedure during pregnancy, and the benefits are well worth the effort of taking a comfortable position to obtain this test. Most women will be able to undergo an ultrasound during pregnancy without any difficulties, without experiencing any side effects and can resume normal activity immediately after the procedure.

Pregnancy Basics

Prenatal Health