One of the biggest concerns for expectant moms is knowing what drugs are safe. There are certain pregnancy-safe OTC medicines and prescriptions.
When you are pregnant, there is so much to think about and many changes you must make in your everyday life. It's widely known that you will have to make changes to your diet to ensure that you consume only safe foods, that you need to take prenatal vitamins and avoid smoking and drinking alcohol during pregnancy. In addition, it is important to know which medications are safe for you to take that will not harm your baby.
Pregnancy and Medication Safety
Generally speaking, no medication is truly 100 percent safe. While there are some that are deemed safe to take while you are pregnant, there may always be a minor level of risk even with those products. No matter what, it's essential to speak with your doctor about medications that you can take during your pregnancy. This includes not only prescription drugs but also those that are easily available over the counter.
As a general rule, if you do learn that certain medications are safe, you should not take more than the recommended dose during your first trimester. Of course, the first trimester is the most sensitive time for your baby as it is only starting to develop; and is particularly vulnerable to the effects of medications.
If you have taken prescription medication prior to getting pregnant, you will want to discuss it with your doctor. In the event that a prescription drug is not safe for the baby, your doctor will direct you to a safer alternative.
Pregnancy-Safe OTC Medicines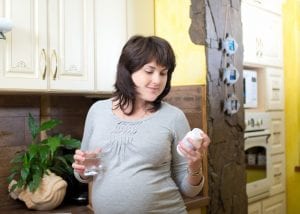 During the course of your pregnancy, you are bound to experience certain ailments and want relief. Whether these are actually related to your pregnancy, such as morning sickness, or if you come down with a cold, you might want to take over-the-counter medication to feel better. However, it's important to know about pregnancy-safe OTC medicines before you take anything. The following are considered safe:
• Antacids and anti-gas: Medications like Tums, Rolaids, Mylanta and Maalox are safe to take for heartburn or gas. Gas-X is also safe.
• Cough and cold: Guaifenesin, an expectorant, dextromethorphan, a cough suppressant and a combination of both medications are safe to take during pregnancy. Cough drops and Vicks VapoRub are also safe.
• Pain relief, headache and fever: Acetaminophen is generally the only safe pain reliever to take for headaches and fever.
• Allergy relief: Chlorpheniramine, loratadine and diphenhydramine are safe to take during pregnancy.
• Constipation, hemorrhoids and diarrhea: Psyllium, polycarbophil, methylcellulose, Preparation H, Anusol, Tucks and loperamide are all safe during your pregnancy.
• Yeast infections and other fungal infections: Clotrimazole, miconazole, terbinafine, tioconazole, butoconazole, butenafine and tolnaftate are safe to take when you're pregnant.
Antibiotics During Pregnancy
Unfortunately, even pregnant women can get sick with a condition that normally requires treatment with antibiotics. However, it's important to know that taking antibiotics may not be the safest option when you're pregnant. In some cases, it might be necessary because if you get sick, your illness can put your baby's health at risk. In this situation, your doctor will find the safest option available for you and the baby. Fortunately, there are a few types of antibiotics that are considered safe during pregnancy. They include the following:
• Ampicillin
• Clindamycin
• Amoxicillin
• Erythromycin
• Nitrofurantoin
• Penicillin
Each of the above antibiotics has been tested to ensure that it can be safely used by pregnant women. Of course, if you have allergies to certain medications, such as penicillin, you should talk to your doctor about finding an alternative that will work as effectively if you are ill and have an infection.
Antidepressants During Pregnancy
Antidepressants are drugs that should be avoided if you're pregnant. Although they can be effective at treating mental illness, they can cause birth defects in babies. According to research, when a pregnant woman takes antidepressants in her first trimester, it can result in birth defects and other problems in the baby, such as autism and cognitive disorders. Certain types of these medications can also result in defects of the baby's heart or skull.
At the same time, if a pregnant mom has a mental illness, she still needs treatment. In that case it's imperative to talk to your doctor so they can prescribe a safe alternative for you during your pregnancy.
If you're pregnant, make sure to discuss everything with your doctor. Discuss any and all medications you take, including supplements and vitamins to ensure your baby's best health.

Prenatal Health