This article covers the symptoms, diagnosis, and treatment of ectopic pregnancy, including the causes and who might be at risk. Learn the symptoms, diagnosis, and treatment facts about tubal pregnancies, as well as information about subsequent pregnancies after a tubal pregnancy.
Also known as tubal pregnancy, ectopic pregnancy is relatively rare, occurring in about 1 of every 50 pregnancies. When it occurs, it may be emotionally difficult for someone who's trying to get pregnant, because the fertilized egg isn't able to survive and develop to full term.
What Is Ectopic Pregnancy?
This condition occurs when an embryo implants somewhere in the body other than the uterus. Conception typically takes place in the fallopian tubes, and the newly-formed embryo stays in the fallopian tubes for about 3-4 days. After this, it usually implants in the lining of the uterus, where it continues to develop into a fetus.
In this condition, the embryo implants in the fallopian tube or, more rarely, in the cervix, ovary, or abdominal cavity. Embryos that fail to implant in the uterus can't develop normally and the pregnancy can't continue. This condition has to be treated as a medical emergency requiring urgent treatment. If left untreated, the condition can lead to a ruptured fallopian tube, which could be life-threatening. A fallopian tube that has ruptured may have to be removed.
Symptoms and Diagnosis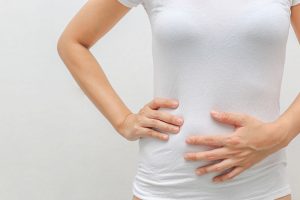 The first signs of this condition might be pelvic pain, with or without light bleeding. Other symptoms include:
• Abdominal cramping, which is often severe
• Breast tenderness
• Dizziness
• Nausea accompanied by pain
• Neck pain
• Pain on one side of the body
• Rectal pain
• Shoulder pain
• Vomiting accompanied by pain
• Weakness
Symptoms of tubal pregnancy should be diagnosed by a health care practitioner immediately, since early treatment may help your chances of having a subsequent full-term pregnancy. Go to an emergency treatment facility immediately for heavy vaginal bleeding accompanied by fainting, lightheadedness, and shoulder pain. These are the symptoms of a ruptured fallopian tube and should be treated as a medical emergency.
The condition is diagnosed with an examination that includes a pelvic exam and a pregnancy test. Your doctor may also want to perform an ultrasound test to make sure the fallopian tubes haven't ruptured and find out the condition of the uterus. The exam may include an ultrasound probe placed inside the vaginal (known as transvaginal ultrasound).
Treatment
Depending on how far the condition has progressed, you may be treated with either medication or surgery. In the early stages, the doctor can inject a medication called methotrexate, which may be referred to by the brand name Trexall. Methotrexate prevents the cells from developing any further. The cells are reabsorbed by the body. In most cases, this medication is the appropriate treatment.
Later in the pregnancy or if the fallopian tubes have ruptured, your doctor will have to perform surgery. In many cases, laparoscopic surgery is possible, using only a small incision in the lower abdomen.
After treatment, your doctor will perform a blood test. This test looks for hormone changes that indicate pregnancy. Your doctor will want to see that the pregnancy has ended so you're no longer at risk for a bleeding condition that could be serious and even life-threatening.
Risk Factors
This condition is more likely to occur in people who:
• Have had sexually transmitted diseases, especially
• Have had an unsuccessful tubal ligation procedure
• Have had a tubal ligation reversal procedure
• Have pelvic inflammatory disease (PID)
• Have previously had an ectopic pregnancy
• Have previously had pelvic surgery
• Smoke cigarettes before becoming pregnant
• Use an intrauterine device (IUD)
• Use fertility drugs
• Use fertility treatments, including in vitro fertilization (IVF) treatments
In each case, it's difficult or impossible to tell why the embryo failed to implant in the uterus. There is a great chance that there is nothing you could have done differently to prevent this condition. It's normal to grieve after a pregnancy loss. Your family, friends, and health care provider can help you find resources if you have trouble dealing with the emotions you feel after losing a pregnancy.
Future Pregnancies
Most of those who've experienced this condition are able to have a typical pregnancy and deliver a healthy baby afterward. Some health care providers recommend waiting for 3-6 months before trying to get pregnant again. A doctor or health care provider may also recommend visiting a fertility specialist before trying again. If a fallopian tube has been removed, it may be more difficult to get pregnant, but it is still possible.


Concerns and Complications

Pregnancy Basics