If you're pregnant, and a fan of new or unique body art, be aware of the risks and precautions that need to be taken during pregnancy.
When you're looking into new body art there are plenty of precautions to take anyway. Here's what you need to know about new and existing body art, specifically during pregnancy and while trying to conceive.
Are Tattoos A Safe Form of Body Art for Pregnant Women?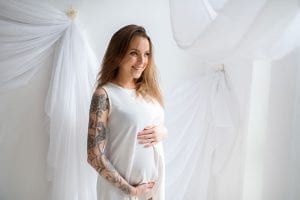 When it comes to ink, tattoos are generally not a safe form of body art for pregnant women. This is mainly due to the risk and isolated cases of people contracting blood-borne pathogens, which pose a serious danger to your baby. In addition, expectant mothers can faint during tattooing. Moreover the skin is more sensitive during pregnancy, which is why the needle can be felt to be particularly painful. In extreme cases, this can lead to stress and subsequently to a miscarriage. If you get a tattoo despite the risk, you should always follow these precautions:
Find a tattoo artist that is licensed in your state.
Make sure that tattoo artists at the parlor wear gloves.
Make sure that the facility is clean.
Ensure that needles are never re-used.
Make sure that the facility's dressings are sterile and unopened.
Make sure that you'll be able to get in touch with the tattoo parlor if you have a problem during the first 24-hours after getting the tattoo.
Check to see that the tattoo parlor has an autoclave (equipment used for sterilizing).
What If I Already Have A Tattoo?
Tattoos that you already have are of no concern to your baby. If you got the tattoo at a facility that didn't appear to follow sanitary precautions, you should get tested for the common blood-borne pathogens such as syphilis, HIV, and hepatitis. If you test positive for any of these diseases, make sure that you get appropriate medical care right away and follow doctor precautions during your pregnancy.
Are Henna Tattoos Safe During Pregnancy?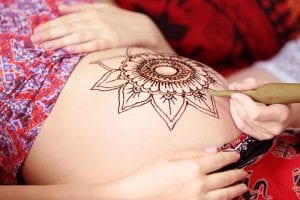 In general, henna is considered safe to get during pregnancy. In fact, it is a popular pregnancy practice to decorate a growing belly for luck and a fun memento of the nine-month journey the body has endured. While this temporary tattoo is safe, there are precautions that you should follow when it comes to the types of henna used as there are different types of henna. Natural, safe henna stains the skin in orange, red, brown, cinnamon, brick, chocolate, or coffee colors, and can last one to four weeks. Keep in mind, that the natural, safe henna does not come in a black color. Prior to getting a henna tattoo, be absolutely sure the artist is using pure, natural products and not black henna, as black henna includes black ink. Black henna ink is more likely to cause severe skin issues and various reactions that may be difficult to diagnose and treat.
For added precaution, test a small patch of skin with henna ink before you get a complete henna tattoo. If you notice symptoms of an allergic reaction, avoid applying the rest of the henna tattoo. To ensure quality henna is being used and applied properly, avoid getting henna tattoos from street artists, and make sure that the person who you get the henna tattoo from is experienced.
Can You Get A Piercing If You Are Pregnant?
Like other body art, the risk that comes with new piercings is due to the increased risk of infection. When it comes to increased odds of infection, pregnant women, in general, are at an increased risk of developing an infection. Thus, piercings during pregnancy should be avoided, as a developed infection, could harm your baby.
Pregnant women are generally encouraged to avoid having piercings done on the belly button, nipples or genitalia during pregnancy or while trying to conceive due to the fact that the body will undergo many physical changes that can affect the piercing.
What If I Already Have A New Piercing?
For piercings already received prior to pregnancy, be sure to remove a belly ring that begins to feel tight. While you can clean a belly ring the same way that you cleaned it before pregnancy, it's essential to make sure that you pay extra attention to keeping the area clean during pregnancy. Nipple rings, however, is commonly suggested to be removed completely during pregnancy, as they can disrupt lactation. Taking a nipple ring out during pregnancy will allow the hole to heal over before your baby is born. If piercings begin to feel tight or uncomfortable and you do not want the piercing to heal by removing the jewelry, replace it with clean fishing line or polytetrafluoroethylene jewelry that provides more flexibility. It is also advised that for mothers who plan on breastfeeding, nipple piercings be removed, as they can become a choking hazard for feeding infants.
When it comes to genital piercings, it is safe to leave these piercings in during the early stages of pregnancy and check with a doctor as the due date approaches. It is not uncommon that genital piercings can get pulled out during childbirth, and result in injuries, so checking with a doctor prior to the second trimester for further instruction is best.
For those looking to acquire new body art during pregnancy or while trying to conceive, it's best to speak with a doctor prior to doing so to ensure it is a safe option that works with your growing family and changing body.
In addition, expectant mothers can faint during tattooing. In addition, the skin is more sensitive during pregnancy, which is why the needle can be felt to be particularly painful. In extreme cases, this can lead to stress and subsequently to a miscarriage.

Beauty

Everyday You