While expecting a child can be one of the greatest gifts to experience, being pregnant can come with an awful lot of drawbacks, especially when it comes to what kinds of food and drink you can have.
This is especially true when it comes to tea. However, that doesn't mean that you have to avoid everything, as there are still certain teas that can be extremely beneficial when you're pregnant.
The Best Teas During Pregnancy
While drinking a lot of caffeine when you're pregnant is a definite no-no, there are a lot of different beverages that you can still drink and this mainly comes down to herbal ones. This is because they contain minimal caffeine, if any, and can end up being a whole lot healthier than regular old caffeine in general.
One of the best of these is Rooibos tea, as it is not only caffeine-free but also has a lot of antioxidants, which can be extremely helpful. However, as great as Rooibos is, the best tea has to be either mint or ginger, which can help ease morning sickness.
Depending on what other ailments you want to relieve, you can also go for the likes of chamomile or red raspberry leaf, which come recommended by a lot of midwives. This is because they can help eliminate insomnia, as well as help with having better contractions when you're in labor.
Other studies have shown that red raspberry leaf can be consumed safely during pregnancy and can also help decrease the length of labor and help prevent pregnancies from pre- or post-term gestation (delivering too early or too late).
On top of that, a lot of the teas that are recommended by many midwives come with what's known as nettle leaf, or stinging nettles. Outside of pregnancy, it can still be extremely beneficial, because it naturally contains a number of different vitamins and minerals. These include iron, vitamins A, C and K and potassium. However, it's not recommended that you drink too much of it, especially in the first trimester. While they can be great for you, there is such a thing as too much of a good thing, which is why it's always said that you should drink it in moderation. This suggestion is a result of the substance's ability to stimulate your uterus, which may not be too helpful in early pregnancies and especially not in your first trimester. However, as your pregnancy goes forward, you'll definitely be able to experience all of the best benefits that it has to offer.
Do Your Research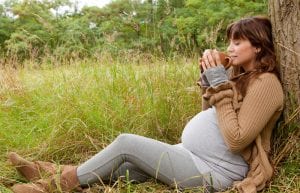 In short, there are many different herbal tea products that you can use for specific purposes, so you may be able to mix and match the ones you're drinking, and then you may be able to reduce many of the negative effects of pregnancy. However, you should always make sure that you're looking at the ingredients, as too much of certain things, even if they're good for you, may end up having an overall negative effect.
It should also be noted that many herbal supplements aren't completely regulated and monitored by regulatory bodies such as the FDA, so you should always monitor your intake. That being said, many well-known and popular brands regulate themselves in order to make sure they're as healthy as possible. Because of that, there aren't too many risks associated with them, although you should always err on the side of caution, especially when pregnancy is concerned.
The Worst Teas During Pregnancy
Speaking of erring on the side of caution, there are obviously several things to avoid, and this is true no matter what you're thinking about eating or drinking. Many of these include PMS, diet, cleansing and detoxification teas, as they can have a detrimental effect on your pregnancy.
As a general rule of thumb, you should avoid anything with certain ingredients that might negatively affect your pregnancy, such as black or blue cohosh and dong quai. Laxatives are also a major no-no; however, they're unfortunately an ingredient in many herbal products, so this may end up drastically reducing the variety of products you can choose from.
When it comes to ensuring the best health for both you and your child though, picking the right products should be no issue, once you already know what exactly to avoid.

Diet

Prenatal Health