Women who are pregnant or who have recently delivered a baby are at an increased risk of sepsis, a condition that may cause disability or death.
Sepsis occurs when the body has an extreme reaction to bacteria, which typically enters the body through a wound or infected area. When sepsis occurs, the body reacts by sending chemicals to fight the bacteria. These chemicals cause inflammation all over the body, which harms vital organs and slows blood flow. Women who are pregnant, have recently miscarried, or have recently delivered a baby are at an increased risk.
Why Does Sepsis Occur More Often When a Woman Is Pregnant?
If sepsis develops when a woman is pregnant, it is known as maternal sepsis. If sepsis occurs within six weeks of a delivery, abortion or miscarriage, it is known as postpartum sepsis.
Maternal Sepsis
Maternal sepsis occurs more often in women who are under the age of 25, are older than the age of 40, or who have congestive heart failure, lupus, diabetes or liver disease. Women with one of these conditions may develop an unrelated condition during pregnancy, such as a urinary tract infection, influenza or pneumonia. When these conditions occur, the pre-existing condition may have caused a weakened immune system, which can make it more difficult for the body to fight infection.
Maternal sepsis also occurs more often in women who have invasive procedures in order to get pregnant or who have invasive procedures during the pregnancy. They are at higher risk because these procedures may allow bacteria to enter the body, increasing the risk of infection.
Postpartum Sepsis
The Centers for Disease Control estimates that postpartum sepsis was responsible for 12.7 percent of deaths in women who died within six weeks of childbirth between 2011 and 2013. Delivering a baby can cause bacteria to enter the body through the vagina or the incision made during a cesarean section. The bacteria can then cause postpartum sepsis.
Diagnosing Sepsis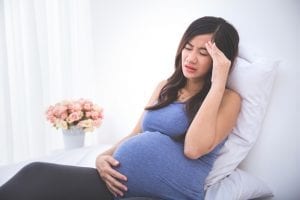 Unfortunately, many of the symptoms of sepsis are symptoms that naturally occur after delivering a baby, so they may go unnoticed. These symptoms include the following:
Decreased blood pressure levels
Increased heart rate
Faster breathing
Increased sweating
Chills
Pain
Dizziness
If sepsis is suspected, the doctor will order blood tests in order to check for sepsis. Additional diagnostic tools, such as X-rays, CT scans and urine labs may also be necessary to determine the effects of sepsis on the body.
Treatment Options for Sepsis
Antibiotics must be administered immediately in order to treat sepsis. These antibiotics are typically given intravenously in order to deliver the medicine directly to the bloodstream. In women who are pregnant, doctors can prescribe antibiotics that are safe to take during pregnancy. A woman may need to remain in the hospital under a doctor's care until the sepsis is cleared.
Preventive Measures for Sepsis
Women who have pre-existing conditions should take care to wash their hands frequently, eat healthily and exercise in order to prevent infections. Any secondary illnesses or infections, such as the flu, should be reported to the obstetrician as well so that the doctor can follow up as needed.
After childbirth, women should follow up with their doctor regularly. This helps the doctor check for the presence of infection at the incision site. Any symptoms of sepsis should be reported to the doctor immediately in order to prevent the condition from worsening.
Complications of Sepsis
If treated early, sepsis may present no complications. If the condition isn't treated promptly, kidney failure, heart dysfunction, respiratory problems, liver failure, disability or death may occur. Because of this, it's important to get care right away if any symptoms of sepsis present.


Concerns and Complications

Pregnancy Basics