Valentine's Day is a day to celebrate each other and your love for one another. While many people assume this means that they need to fork out a lot of money on expensive gifts or flowers, there are also plenty of other less expensive things that you could do to make your pregnant wife happy!
While it may be hard to forget during this time in your lives, pregnant women tend to crave the following: love, food, attention, and perhaps a massage to help relieve some of the stress and tension she may be feeling.
This is a time to not only celebrate your relationship, but also your unborn baby. By figuring out which idea works best for you and your spouse, you can work to create an environment that allows for the perfect day to focus on your love for one another and create an enjoyable, relaxing atmosphere.
Try a Sweet Gesture
Women, especially pregnant women, wear their hearts on their sleeves and can be suckers for a sweet gesture that really shows how much you care.
Here are a few ideas on how you could go about this:
Write her something. You can write your wife or unborn baby a love letter or poem. By doing so you can tell them how much you love them and how much you are looking forward to meeting the baby you have created together.
Draw her a bath. You can prepare a nice relaxing environment for her by filling up the bathtub (with not too hot of water) and sprinkling some flower petals into it. You can add some candlelight and her favorite aromatherapy to set the mood. You could chose to do this for her alone or join her if your tub is big enough!
Don't forget the card! Women love cards, for any holiday! It is always a quick and sweet reminder of how important the holiday is for you both. You can even take the time to mention all of the things you love about her, what you are thankful for, or even what you are looking forward to as soon-to-be dad!
Make her something. Here is the time to find your inner creativity! Maybe you hear her talking about something she has been dreaming about getting for the baby or to help make her life a little easier. Now is the time to become super "soon-to-be dad" and surprise her with something you have put together to help make her happier!
Things you Can Go Do
While this does not mean that you shouldn't include a sweet gesture with your Valentine's Day plans, there are also plenty of things that you can go and do together to celebrate!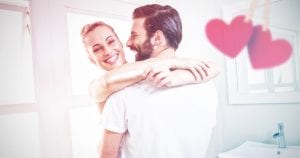 Here is a list of some ideas you can partake it:
Go outside. Go for an adventure together. This could be going for a nice walk or a long drive. Use the time to talk to each other about your hopes and dreams for your baby and what is to come. If you are near the beach walk down by the beach, or up in the mountains- but not too deep of a hike depending on where she is in her pregnancy remember!
Enjoy a spa day. You can always book a couples spa treatment together to relax and unwind. You could treat yourselves to a pedicure, manicure, massage, or another type of spa service.

This does not mean that you need to go out to a spa either. You could always create your own spa environment at home and treat your wife to a nice massage and foot rub!

Enjoy a romantic dinner. You can go out for dinner to a restaurant you have been looking forward to trying! Or perhaps the restaurant where you had your first date? If you do not want to go out during this holiday, you could always create a nice candlelight dinner at home. Cooking a meal together is always a great way to bond and enjoy each other's company. Then curl up by the fireside after dinner and enjoy the time that you have together before baby makes their big arrival!

Remember when thinking about dinner for Valentine's Day what kind of foods that may not sit well with your wife! She may have new food aversions or food cravings throughout this pregnancy. You don't want to pick a restaurant or meal that will make her nauseous or uncomfortable!!

Enjoy an at home date night. You could enjoy a game night together or even a movie night with some movies that you have been waiting to find the time to see together. If you do an at home date night, just make sure to spice it up and make things a little more special than usual. This could be by letting her pick the movies or the games, or even adding a romantic gesture on top of spending time together.
Get intimate. Don't forget to keep the physical romance alive! Sometimes pregnancy can put being physical on the back burner, perhaps buy her something to help her feel sexy and shows off her new curves. You can light a few candles, turn on some music to set the mood and enjoy every touch of each other.
Enjoy the Holiday
Regardless of how you spend your holiday, it is important to enjoy the time that you are spending together. You are making memories to last you a lifetime! Next year, you may be too busy with a newborn to enjoy a Valentine's Day celebration, so don't let it pass you by!

Everyday You

Relationships and Sex