When it comes to Valentine's Day the typical go-to for couples is flowers, chocolates and a fancy bottle of wine. But if you're pregnant, it can be a fun excuse to add a little something more to the holiday, especially if you're not feeling up to the usual dinner outings. Here are seven opportunities to get away from the day to day grind and chaos of baby planning to enjoy some quality time with your mate.
1. Board Game Date Night
Whether you're cooking at home or ordering something in, clear off the table and grab your favorite board games for a fun evening of laughs and a little competition. In the meantime, there are some board games that are specially designed for Valentine's Day. You can find some nice ideas here.
2. Movie Night at Home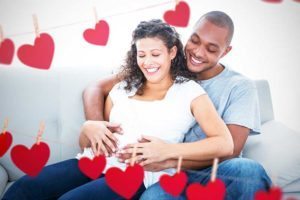 Depending on your pregnancy experience, you may or may not be up to heading out to a theater and being in the Valentine Day crowds. Bring the theater experience to the comfort of your home by borrowing or renting a few DVDs or enjoying Netflix. Indulge in snack food and candy and maybe bring in a pizza for a comfortable dinner and movie experience that you can enjoy in your coziest clothes and chair. Are you still looking for a perfect romantic movie? In addition to classics like Pretty Woman, Dirty Dancing and Titanic, films like Letters to Juliet, Love Actually, The Notebook, 27 Dresses and P.S. I Love You make for a perfect Valentine's Day movie date.
3. Mini Golf
If pregnancy has limited your ability to take in a little competitiveness when it comes to athletics, try a fun outing with a game of mini golf. You can be goofy or competitive without the fear of adding stress to your growing bump.
4. Beach Date
What's better than sitting outside, waves crashing on the beach and the sand between your toes? If you're lucky enough to be in a warm climate come February, take in the beach with your loved one. Enjoy a warm day or a pleasant moon-lit walk on the sand.
5. Indoor Picnic
For many couples, Valentine's Day comes at the brisk time of year on the tipping point between winter and spring temperatures. For an intimate and fun dinner option, pack up a picnic meal, lay out a comfy blanket on the floor and enjoy a movie, game or background music as you enjoy your meal in fun setup.
6. Get Gourmet
If cooking is something you enjoy, make it a perfect date night with your mate by picking out a new recipe, or one of your favorites, and enjoy a culinary experience together in the kitchen. If you want to make it more romantic, here you will find special Valentine's Day inspired recipes. When it comes to your calorie intake during pregnancy, there's nothing wrong with splurging every now and then and Valentine's Day is the perfect excuse to indulge in flavors.
7. Get Intimate
What's Valentine's Day without the romance? Keep the physical romance alive with a little intimacy. Get some sexy maternity lingerie to feel extra sexy and show off your new curves, light a few candles, set the tunes low and enjoy some new positions with your partner that let you enjoy the touch of each other.
Regardless of whether you stay in or head out this Valentine's Day, there's a lot of extra love to celebrate this year before your little one arrives, so enjoy your moment together and have some fun.
Having urinary tract infections is never a good experience, but during pregnancy, it can be a particularly uncomfortable and unhealthy experience. During pregnancy, this can be slightly harder to diagnose and treat because the body changes so much.
Read More

Everyday You

Relationships and Sex