Chorioamnionitis is a dangerous medical condition that affects pregnant women. It's a bacterial infection that poses risks to both mother and baby.
If you are pregnant, it's important to know about this condition, which can develop before or during labor. Chorioamnionitis occurs when there is a bacterial infection in the amniotic fluid, amnion and chorion around the unborn baby. While it's not that common, it strikes around 2% to 4% of women in full-term pregnancy.
What Causes Chorioamnionitis?
This serious medical condition develops due to the development of an infection. The infection can begin when bacteria that is normally found in the vagina travel into the uterus and amniotic tissue. Typically, anaerobic bacteria, E. coli and group B streptococci are the kinds that lead to the condition. When it occurs, the placenta, amniotic fluid and even the baby can become infected.
The infection typically starts in the expectant mother's vagina, anus or rectum. From one of those areas, the bacteria travel up into the uterus and cause problems. It is a leading cause of premature delivery in American women.
Symptoms of the Condition
In some cases, there are no symptoms present when a woman has chorioamnionitis. However, some do experience a few symptoms, including the following:
Amniotic fluid is discolored and smells bad
Fever
Rapid heartbeat
Sweating
Uterine tenderness
What are the Risk Factors for the Condition?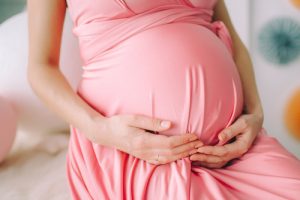 Certain factors can increase your risk of developing chorioamnionitis. The most common include the following:
First pregnancy
Internal fetal or uterine monitoring
Long labor
Low socioeconomic status
Membranes that are ruptured for an extensive time period
Multiple vaginal examinations during labor in women with ruptured membranes
Preexisting lower genital tract infections
Young maternal age (under 21 years old)
Women who have one or more of these risk factors are more likely to develop this medical condition.
What Are the Complications Caused By Chorioamnionitis?
Chorioamnionitis is a medical condition that is often viewed as a medical emergency. This is because it can lead to certain complications that can be serious for both the mother and baby. Those complications include the following:
Bacteremia, an infection in the bloodstream
Blood clots in the lungs and pelvis
Endometritis, an infection that affects the uterine lining
Heavy blood loss during childbirth
Need for a cesarean delivery
Generally speaking, around 3% to 12% of women who develop the condition have bacteremia. Frequently, women who have the condition also require a cesarean delivery, but around 8% who do end up developing an infection in the wound. Another 1% develop pus in the pelvic area. However, mothers rarely die from this infection.
Babies are at high risk of certain serious complications as well. They include the following:
Development of meningitis, but under 1% of newborns who are delivered to term are affected.
5% to 10% of babies may develop pneumonia or bacteremia, the latter of which is more common in preemies.
Although rare, complications from the condition can threaten the lives of premature babies.
It's important to note that all of the complications are less likely to develop if the infection is diagnosed early enough and the mother is given antibiotics for treatment.
Diagnosing the Condition
Doctors can diagnose this serious condition during a physical examination. However, lab tests can absolutely confirm the presence of the infection.
If you are in preterm labor, you may need an amniocentesis to receive testing. If the amniotic fluid has too low a sugar or glucose concentration, or a high white blood cell count and bacteria, you may have chorioamnionitis.
Treating Chorioamnionitis
After your diagnosis, you can receive treatment immediately to prevent further complications. Your fever will lower and your recovery time is faster with prompt treatment. Your baby's risks are also reduced.
Antibiotics administered through an IV are used to treat the condition. You receive treatment until you have given birth. The following antibiotics may be used:
Ampicillin
Clindamycin
Gentamicin
Metronidazole
Penicillin
Once your doctor sees a notable improvement in your condition with treatment, the administration of antibiotics can be stopped. Once you no longer have a fever and your doctor is sure that you are doing well, you will be able to return home.
If you're diagnosed with chorioamnionitis, don't panic. If you are treated immediately, you and your baby will be fine.


Concerns and Complications

Pregnancy Basics