Pregnancy can be strenuous on your body, especially in the second and third trimesters. Excess water and baby weight can strain your joints. This is especially true for pregnant women with arthritis. A recent study monitored 157 pregnant mothers, and 35 cases developed third-trimester arthritis. Whether you develop or already have arthritis late in your pregnancy, there are ways for you to stay healthy and keep symptoms under control.
What Pregnant Women With Arthritis Should Consider
Typically, women with arthritis don't have difficulty getting pregnant. It's important, however, that you understand the impact arthritis can have on your unborn baby. For instance, if you rely on medication to keep your arthritis-related joint pain under control, your doctor may need to modify your medications to avoid passing them onto your baby. Some medications also linger in your body after you stop taking them. It's important to keep in contact with your doctor about joint pain relief with or without medication.
Let your doctor know if you plan on breastfeeding so that you receive medication that can't pass through your milk. Doctors typically continue prescribing medications throughout the pregnancy and after delivery to keep arthritis under control. Non-steroidal anti-inflammatory drugs should always be avoided during the third trimester.
Common Symptoms of Pregnancy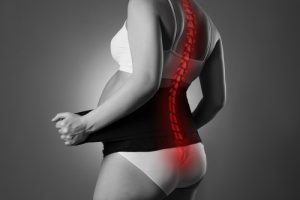 As you enter the middle of your pregnancy, your body begins changing more rapidly to accommodate your developing baby. This includes your spine curving to support cervical growth. Spine changes create back spasms, numbness and leg tingling in some cases. Your joints can also begin to loosen as you gain weight. This additional weight causes weaker knee muscles that hurt when you straighten them or go up and down stairs.
Water weight can result in hip, knee, ankle and foot joint stiffness. While these symptoms go away after birth, they can cause immense pain during your pregnancy. Any abnormal water weight gain should be communicated to your healthcare provider. He or she can help you establish a plan to minimize these symptoms and provide relief.
Third-Trimester Arthritis Health Risks
Mothers with arthritis have a higher chance of health risks during pregnancy. A major risk is preeclampsia, or pregnancy-related high blood pressure. You can also experience excess protein in urine, which is an indication of kidney damage. If left unchecked, preeclampsia can be fatal for you and your unborn child. Mothers suffering with third-trimester arthritis are at higher risk of delivering smaller babies with lower birth weights.
Managing Arthritis During Pregnancy
While it may be slightly challenging to manage third-trimester arthritis, there are a number of ways to have a healthy and safe pregnancy. One of the major ways involves developing a plan with your OB/GYN prior to giving birth. Speak with your doctor about pain, weight changes and any other concerns that can put your or your baby's health at risk.
You should also contact potential anesthesia professionals in case you need a cesarean during labor. They can also assist in finding comfortable birthing positions if you experience consistent joint pain. Keeping in shape is also important. While you shouldn't perform strenuous activities during pregnancy, working on muscle building and maintaining healthy range-of-motion will make labor and recovery much easier. Great examples of these exercises are swimming and walking.
You also need to eat a healthy diet. You need nutrition to keep everyday bodily functions working and to assist your baby's development. Arthritis can cause dry mouth as well as trouble swallowing and eating. Speak with your healthcare provider if you experience these symptoms.
Take Care of Yourself
Whether you already have arthritis or acquire third-trimester arthritis, keeping it under control is key to a successful pregnancy. Be sure to speak to your healthcare provider about getting the proper medication to remain healthy. In addition to following a nutritious meal plan and getting exercise, make sure you get adequate amounts of rest to combat pregnancy fatigue.
Don't be afraid to ask for additional help after delivery. Your body needs time to recover, so enlist family and friends to run errands or help with your little one. Pregnancy naturally wears your body, so following these steps will help you feel your best, even with third-trimester arthritis.


Concerns and Complications

Pregnancy Basics