Choosing the right name for your baby is no easy task. To help you make the right decision, here are some considerations when choosing baby names.
Your baby's name is the name they will hear for the rest of their life. A name is the first part in forming an identity. You want to give your child a good foundation. However, there are so many names to choose from. How can you and your partner possibly decide? Here are some tips on picking the right baby name for your little bundle of joy.
People Who Already Have the Name
One of the biggest problems couples run into when picking out baby names is that certain names, as pretty as they may be, may bring up the image of someone you already know. You need to pick a name that is unique in your universe. Even though you might really like your Aunt Claudette, that doesn't mean you want to think of her every time you say your child's name.
You also might want to be mindful of celebrities who might have the name you want. Certain celebrities will be almost impossible to live up to. Also, you don't want to give your child the name of someone who is popular for the wrong things. Sorry to every girl named Paris or Lindsay.
Popular Names of the Time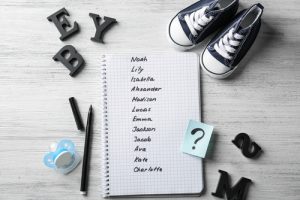 Trendy names seem to appear every year. One year, it was Ashley. Another year, it was Michael. You don't want your child to have the same name as everyone else. Look into the most popular projected baby names for the year your child will be born and immediately cross those off the list unless you want your child to have 10 friends with the same name. Your child will pretty much live with a nickname or their last initial as part of their name.
Initials
Your child will need to use their initials at times throughout their life. Be careful not to pick a name with awful initials that can possibly be embarrassing. Stella Tatum Davis might sound like a pretty name to you until you realize that the initials will be STD. Be mindful. You should also look at the initials without the middle initial included.
Jokes/Insults
One of the prettiest baby names I liked when picking names for my daughter was Pandora. It's just a gorgeous name in my opinion. However, I quickly realized that name comes with a lifetime of "Pandora's box" jokes that I didn't want my daughter to hear for the rest of her life. Think about the ways that people may be able to make fun of the name. If it's too obvious, you should probably go with something else. People may make fun of a name no matter what it is, but you don't need to add fuel to the fire.
You Like It
Ultimately, you need to pick a name that you and your partner both like. You're going to be saying it a lot as they grow up, so you need to like the way it sounds.
Picking baby names is one of the most exciting parts of pregnancy. Spend a lot of time on the decision, because your child will need to live with it forever.

Preparing for Baby