You can find crafty ways to decorate a baby's nursery that involve using color and furnishings to create special themes. This can be done easily with modern and trendy design ideas.
Parents do themselves a favor by thinking ahead to the look and design of their nurseries. Taking this early start allows you to not only create unique spaces for your newborn; you will be able to find the right décor items and accessories that complete your vision. This is a process that can be done simply with a bit of planning and organization. Finding the right idea means evaluating the space you have in the nursery. This will dictate the types of furnishings necessary for this room.
Here are seven ways to get crafty in baby's nursery:
1 – Look at the Trends
According to Parents.com, one of the top searches in 2019 on Pinterest was ideas for baby's nursery. These were searches by parents who in part wanted to find crafty ways to get the most out of these spaces. Vital stats from imaging were some of the most popular ideas for wall hangings and photos. Prints of sonograms are used to decorate the walls with colorful frames that match the décor.
2 – Baby's Nursery Patterns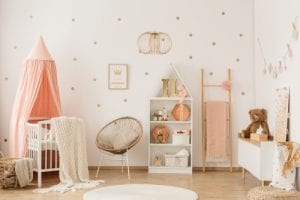 Geometric patterns are among the great design ideas being incorporated in nurseries. These are creative patterns that can be used as focal points to decorate around. Area rugs, blankets and even window treatments with these shapes are nice. Selecting colors and shades that coincide with wall paint or carpeting can be done when using these patterns, as well.
3 – Choose Themes for the Future
House Beautiful encourages parents to choose themes that will be appreciated in the future. As babies grow and become toddlers, they will notice more and more what surrounds them. Animated movie themes are commonly used because they include characters that kids grow up around. Applicable stickers, posters, and stuffed animals are available in many stores for decorative purposes.
4 – Use Fun Lighting Fixtures
In most instances, there are already lighting fixtures in the rooms used for nurseries. These are components that can be swapped out with fun designs. There are chandelier styles that have pictures of movie characters on them. It is also possible to use attachments to this lighting that have small stuffed animals. Using appealing color patterns and schemes to complement this space is beneficial.
5 – Incorporate Natural Settings
You may opt to create a natural setting in your completed nursery design. There are two crafty ways to achieve this type of goal. Wooden furniture, such as chests, bookshelves and chairs bring in the texture that harmonizes with this setting. At the same time, choosing a particular place in nature for your themes like gardens, beaches and fictional settings can also bring nature into the nursery.
6 – Purchase Furniture for Growth
There are crib products that can be redesigned and expanded to create toddler beds. Purchasing these pieces that "grow" with your child is a good investment. This requires a bit of comparison and bargain shopping. It is also necessary to measure the square footage in the nursery itself. Doing this ensures that you purchase properly sized furniture for the space you have.
7 – Design with Storage in Mind
Storage plays a role in the functionality of any home nursery. Fortunately for parents, there are terrific pieces that serve this purpose. Ottomans, chests, cabinets and storage pieces can generally be found specifically for nursery usage. These are available in different sizes, shapes and colors to accommodate your décor ideas.
Designing with storage in mind is good now and especially as your child grows.  It is a good idea to start your nursery plans with a budget for design goals. Depending on due dates, these are designs that can be done step-by-step. There are affordable techniques that involve DIY creations in the room.
Conclusion
All sizes of rooms, whether in houses or apartments, can be completed in crafty and cool ways with the right products and preparation. Accommodating designs based on room dimensions is important. Crafty approaches can result in some of the best nurseries even when you have a limited budget.


DIY Projects

Preparing for Baby