Labor is an exciting time for an expecting woman and her family. This event marks the final stage of pregnancy and the beginning of the process that should culminate in childbirth. Being properly prepared for this undertaking could play a critical role in ensuring it proceeds as smoothly as possible and without any complications.
Knowing When Labor Has Started
Before initiating the preparation process, an expecting individual should know when labor has commenced and when a trip to the hospital is warranted. Labor contractions usually feature certain commonalities, including discomfort that spreads from the back to the belly and render the woman's stomach hard to the touch. However, as the baby gets closer to being delivered, contractions will happen more frequently and become far more intense.
Pregnant women are also urged to realize that the presence of contractions alone might not signal the beginning of labor. Water breakage, nausea and bloody or mucous-like discharge from the vaginal region are also signs. Medical and childbirth experts recommend that, if a woman is unsure, she should consult with her family doctor, obstetrician or healthcare specialist as soon as possible.
Arriving At The Hospital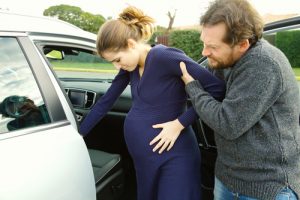 The soon-to-be mother's mode of transportation to the hospital might vary depending upon the time of day she enters labor. If the woman is at work or some other public venue, an ambulance may be needed. However, if the expecting subject is in good enough physical condition and her spouse or a trusted family member can drive her; this arrangement should work as well.
Most hospitals possess a labor and delivery ward, which is devoted strictly to the childbirth process. Upon arrival, the expecting subject will typically be escorted to this ward by a member of the hospital staff. In certain instances, the would-be mother is first placed in triage, which is a special location where a team of medical professionals will assess her condition; determine if she has in fact entered labor or if any other potential complications exist. These factors will determine how quickly she is attended to. The woman is usually admitted to the medical institution and given a room where various healthcare professionals will closely monitor her condition.
Pertinent Information
As a woman reaches the end of her pregnancy, she and her spouse or family members should begin gathering all pertinent documentation needed to present to a hospital staff, place these papers in a zipped or enclosed folder and store it in a location that is easy to access and remember. Such information could include the expecting woman's medical records, information on any over-the-counter or prescription medications she uses regularly, insurance cards, any special instructions related to the pregnancy that the attending medical team should be aware of and the contact information of her family doctor and obstetrician. Having these documents in order often saves a great deal of time, aggravation and potential complications.
Role Of Support Team
Arguably, the most important job for the expecting subject's spouse, family or other members of her support team is to ensure that the soon-to-be mom is safe, comfortable and calm by taking care of every administrative duty and other actions like packing the belongings she will need while in hospital. Above all, her team should offer emotional support as the event progresses.

Prenatal Health