If painful bumps keep returning to your private areas, see a dermatologist. You may have hidradenitis suppurativa (HS).
Hidradenitis suppurativa is a chronic inflammatory skin infection that commonly affects the genital area and body folds and can result in permanent damage. Also referred to as acne inversa, HS mainly affects women of reproductive age.
Inflammatory conditions like systemic lupus erythematosus and systemic vasculitis during pregnancy have adverse effects, including increased premature births and miscarriages. However, there's limited data concerning HS's implications for pregnancy, limiting care delivery to women with the condition.
Underlying Causes of Hidradenitis Suppurativa
Whereas the exact cause of hidradenitis suppurativa remains unknown, various factors may play a role, including hormones, genetics and obesity. Hidradenitis suppurativa cannot be caused by poor hygiene, STDs or other health conditions. It's not contagious.
Other risk factors include the following:
Sex: Women are more likely to develop HS than males.
Age: HS predominantly affects individuals of childbearing age.
Certain health conditions: HS is more common in obese people. It also has a relation with diabetes, arthritis, metabolic syndrome, inflammatory bowel disease and polycystic ovarian syndrome (PCOS).
Smoking: Smoking has an association with hidradenitis suppurativa.
Symptoms of HS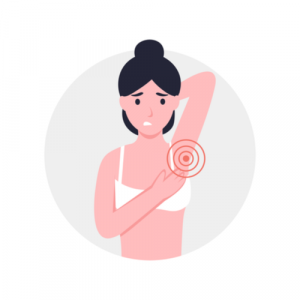 Hidradenitis suppurativa causes big, red bumps to occur around hair follicles, mostly found on the breasts, buttocks, armpits, groin and genital areas. The affected skin area itches or sweats excessively. You can easily mistake these bumps for boils. These bumps become painful and often become bigger and drain pus, which can have a foul odor. Over time, tunnels can form under the skin, connecting the bumps. These wounds take time to heal and drain pus and blood, and flare-ups commonly occur and can last for months.
Other complications of HS may include the following:
Limited limb mobility
Scarring
Strictures at the urethra or anus due to chronic inflammation
Squamous cell carcinoma (rare)
Disfigurement
Skin cancer
Swelling in the legs, arms or genitals
How to Treat Hidradenitis Suppurativa During Pregnancy
Some HS treatments might be unsuitable for pregnant women. You cannot take retinoids during pregnancy, but several topical and oral antibiotics are safe. In addition, oral zinc may help prevent HS flare-ups. Zinc minimizes inflammation and is safe for unborn babies.
If you have HS and are pregnant, the following treatments can help:
Medications injected into lesions or applied on the affected skin area
Procedures like laser therapy and limited surgery
Lifestyle changes, such as stress reduction and quitting smoking
Effect of Pregnancy on Hidradenitis Suppurativa
Studies show mixed results on the effects pregnancy has on HS patients. Some indicate that pregnancy doesn't improve HS symptoms, while others show that HS symptoms worsen for pregnant women. In addition, some studies indicate that some women experience a postpartum disease flare-up.
How Hidradenitis Suppurativa Affects Breastfeeding
If you have flare-ups on the breasts, breastfeeding can become difficult. You need to seek medical attention before the baby is born. However, lesions under the breasts don't affect your baby's ability to breastfeed. More importantly, medical experts recommend that your OB-GYN work closely with your dermatologist. Together, they can develop a treatment plan that puts HS under control and ensures your and your baby's safety.
Conclusion
The condition can significantly affect your quality of life. For this reason, medical experts recommend that your OB-GYN work closely with your dermatologist so that your team of experts can find a way to control the condition and ensure that you and your baby are safe.


Concerns and Complications

Pregnancy Basics