Pregnancy could have a significant impact on a woman's vision.
The pregnancy process precipitates certain systemic changes that could adversely affect a woman's vision. Some of these issues are minor and should resolve themselves after the woman gives birth. However, some of these issues may be indicative of a more serious medical problem that requires medical intervention.
Impact of Pregnancy on Eyes
Eye-impacting issues pregnant women should be conscious of include the following:
Hormonal Changes – The bodies of expecting women experience a surge in certain reproductive and sexual hormones. These chemicals can precipitate the onset of dry eyes. Dry eyes might elicit physical manifestations like slightly blurred vision, redness in the eye and a painful or burning sensation within the eye. This condition occurs because the tear ducts fail to produce enough fluid to maintain proper moisture.
Fluid Retention – In many instances, expecting women retain a significant amount of fluids. Excess bodily fluids might cause corneal abnormalities. The cornea is the clear structure directly in front of the eye. Situated between the pupil and iris, the ocular component enables the eye to process light. When corneal anomalies occur, individuals can experience symptoms like blurred vision and light sensitivity.
Preeclampsia – Also known as pregnancy-induced high blood pressure, this condition can be serious and be accompanied by significant eye problems. The most common eye-related manifestations of this ailment include blurred vision and light sensitivity. However, afflicted individuals might also report that they see spots and sudden bright flashes. In the most severe cases, individuals might experience a temporary but complete vision loss. Many physicians consider these symptoms a potential medical emergency because preeclampsia often progresses quickly and can impact other vital bodily regions.
Gestational Diabetes – A small percentage of expecting women experience wild fluctuations in systemic concentrations of glucose. Should the condition become more chronic or severe enough, diabetes might ensue. Diabetes can impact the eyes, and blurred vision is typically one of the first associated eye-related manifestations. 
Potential Corrective Measures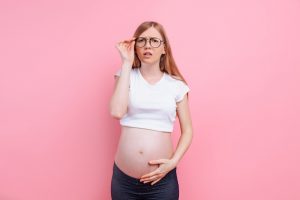 Specific therapeutic protocols will depend upon the underlying condition and the severity of the vision problem.
In certain instances, such as dry eyes precipitated by hormonal surges, remedies like eye drops might circumvent eye dryness and alleviate associated pain or burning. Should the vision disturbances be caused by fluid retention, using glasses or taking medications designed to stabilize systemic fluid balance might provide a certain degree of relief.
That said, in the case of preeclampsia or gestational diabetes, more aggressive treatments may be indicated. It is important to reiterate that preeclampsia has the potential to be life-threatening for both unborn child and mother. Therefore, women experiencing associated eye symptoms should seek medical attention immediately. Treatment will center around stabilizing the condition.
Though not necessarily as immediately life-threatening as preeclampsia, gestational diabetes can still yield harmful, potentially permanent health problems for mother and unborn child. Therefore, stabilizing blood sugar levels will be critical to controlling related eye issues or any other associated manifestations.
Preventive Tips
Pregnant women typically cannot avoid hormonal changes and fluid retention. However, more severe conditions like preeclampsia and gestational diabetes might be avoided through the careful monitoring of blood pressure and blood sugar levels.


Concerns and Complications

Pregnancy Basics