A baby's pheromone-stacked tears are more than just a signal for help to mom as it has possible effects on her libido as well.
Regardless of the species, the connection between mother and her newborn is undoubtedly one of the world's biggest mysteries. Scientists continue to uncover all there is to know about this amazing relation as even the slightest change in either mother or newborn could drastically change the attitude of the other. This time around, we are going to focus on a baby's tears.
What are Pheromones?
In essence, pheromones are a chemical substance that is released by humans and certain species of animals, according to American Scientist. While most bodily chemicals affect its primary source, pheromones are different in the sense that they affect those around the individuals who excrete them. The pheromones trigger certain receptors in a creature's brain, thus causing it to change how it behaves.
Baby Mice Tears Weaken a Female Mouse's Libido
Researchers from the University of Tokyo published a study about the effects of exocrine gland-secreting peptide 22 (ESP22)—a pheromone derived from the tears of a young mouse. The inspiration for the research was drawn after a 2013 study by the same group investigated how an adult male mouse's ESP1, a male specific pheromone, enhances a female mouse's sexual aggressiveness.
The results of the new research revealed that the tears from the young mice make the female mice more likely to avert the sexual advances of male mice. Mother mice and virgin female mice showcased the same changes in behavior.
The study was conducted in a bid to find a solution for controlling rodent populations. Since the results were positive, there could come a day when ESP22, a pheromone released by juvenile tears, is added to a rodent population's drinking supply. The researchers also note that ESP22 is specific to mice, so it will not affect other species negatively. Such a solution is not only eco-friendly, but it is also more humane than other rodent-control solutions.
How Does It Work?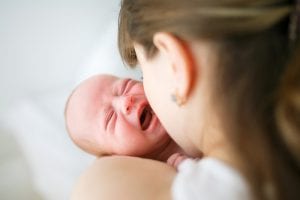 When a female mouse's libido is activated with ESP1, it becomes more aggressive in mating, thus making it more vulnerable to the advances of the male. However, ESP22 can interrupt the female mouse's brain receptors, so even those exposed to ESP1 are affected.
University of Tokyo's Kazushige Touhara explains how the female mice reject a male's sexual advances to Research Gate. The ESP22-stimulated female mice showcased at least one of various actions including standing or staying low and squeezing their limbs tighter. In some cases, the female mice would turn their bodies away when they were mounted by a male.
Although the results of the study were great, the researchers cannot push through with an applicable formula for the rodent population just yet since ESP22 cannot be chemically synthesized. According to Touhara, they are currently looking for an active fragment inside the pheromone that can be replicated.
The researcher also says that if humans do detect pheromones in tears, it wouldn't be through the same receptors as mice. Still, Touhara adds that they are interested in figuring out if certain species react to olfactory signals similarly. Whether or not human females react similarly after being exposed to an infant's tears remains unanswered.
Infant Pheromones and the Human Mother
In human mother-child relationships, pheromones are believed to play an important role in recognition. According to a study published on NCBI, mothers are able to distinguish their newborn based on smell alone. In some cases, they are also able to determine the gender of another person's baby just by smelling.
On the other hand, babies are only able to recognize their mother through pieces of clothing that come in contact with their axilla during childbirth. The infants also prefer clothes worn by their own mothers compared to clothes worn by others. The study, however, does not look into how pheromones affect a human female's overall behavior.
The University of Tokyo's research opens a ton of opportunities for pest control. Though the end-product of the research is still in the early stages, there are high hopes for how it can potentially control rodent problems around the world. The study could also inspire other researchers to explore the mysteries and wonders of pheromones and how they affect the human sexes.

Baby's First Year

Postpartum Basics