Pregnancy hormones, such as estrogen and progesterone, can increase the risk of periodontal disease, or gum disease, in women who practice poor oral hygiene or already have gingivitis.
Pregnancy can be a joyous and smooth process for many women. However, while preparing to receive their new bundle of joy, pregnant moms should also take extra special care of their teeth to prevent gingivitis and gum disease. Some studies have even linked the disease to premature labor, preterm birth and low birth weight.
What Is Periodontal Disease?
Also called periodontitis, gum disease occurs when the structures around the tooth become severely infected by bacteria. These structures are the gums, periodontal ligament and the bone surrounding the tooth pockets.
Advanced periodontitis can cause the soft tissue around the tooth to become loose, allowing bad bacteria to gain access to and destroy the bone supporting the tooth. Pre-molars and molars are more vulnerable to the disease because they are more challenging to clean than front teeth.
What Causes Gum Disease?
Gum disease is caused when dental plaque filled with bacteria and toxins accumulates between the gums, teeth, and at the gumline. This may lead to gingivitis, or inflammation of the gums and soft tissue surrounding the teeth.
If not treated, bacteria causing the inflammation can progress into and infect the periodontal or tooth pockets beneath the gumline. Chronic bacterial infection can cause severe irreversible damage to the tooth pulp and jawbone structure surrounding the teeth. Loosened teeth or tooth loss can ultimately result.
Gum Disease Symptoms
Knowing the early signs of gum disease can help you take steps to prevent it from progressing and causing the teeth to pull away from the gums.
Early Symptoms
Gums bleed when brushing or flossing
Red, swollen gums (inflammation due to gingivitis)
Tooth sensitivity
Late symptoms
Pain when biting or chewing
Persistent bad bread
Loose teeth
Receding gums
The Link Between Pregnancy and Gum Disease
Gum disease can happen to anyone who practices poor oral hygiene. However, pregnancy increases the risk of developing the disease. The hormones human chorionic gonadotropin (hCG), estrogen and progesterone are elevated during pregnancy. But progesterone and estrogen are the main culprits linked to periodontal disease.
A rise in the level of progesterone and increased blood flow during pregnancy cause tiny blood vessels in the gums to dilate. This makes the gums more sensitive and prone to bacterial infection and gingivitis. Gum inflammation is more likely to occur within the second and eighth months of pregnancy. If gingivitis is already present, progesterone makes it worse, increasing the risk of gum disease. Pregnancy hormones may also cause gum tissue overgrowth called "pregnancy tumors" to form between the teeth or at the gumline.
How to Prevent Gum Disease During Pregnancy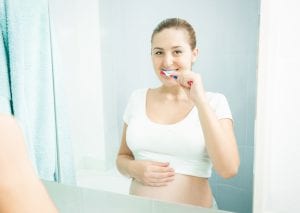 Studies suggested that toxins from disease-causing bacteria in the mouth can get into the bloodstream and cause inflammation that can trigger labor prematurely. Thus, preventing gum disease is crucial. A daily routine of brushing, flossing, and rinsing with an antibacterial mouthwash is the first preventive step. This is the standard oral hygiene recommended by the American Dental Association (ADA).
Pregnant women should brush their teeth at least two times a day using a soft-bristled toothbrush and fluoride toothpaste. Floss picks, floss threaders or water flossers should be used to removed trapped food particles and plaque between the teeth, on the gums and at the gumline. Scaling back on sugary snacks and beverages also helps reduce bacterial activity on the teeth and gums. Also, see your dentists at least twice a year for a professional oral examination and cleaning as an additional measure in preventing gum disease.
Treating Gum Disease During Pregnancy
Gingivitis is the early stage of periodontitis. Regular brushing and flossing can reduce inflammation and even reverse gingivitis. You can also use a solution of sea salt and water to rinse. Salt is an antiseptic, which helps get rid of bacteria in the mouth. Eating fruits rich in vitamin C is another way to keep the gums healthy. However, it is best to speak with your doctor before attempting home remedies to avoid harm to the baby.
Full-blown gum disease usually needs professional treatment by a dentist or periodontist to help the reattachment of healthy gums to the teeth. Your doctor may decide to treat you depending on how far along your pregnancy is. Deep-cleaning the teeth and gums will remove built-up plaque causing the disease. Prescription mouthwash or a round of antibiotics may be prescribed. If the benefits outweigh the risks, your dentist may recommend periodontal surgery, for example, to save a tooth at risk of falling out.


Concerns and Complications

Pregnancy Basics