There's no doubt about it, sleeping is important for your overall health, and when it comes to pregnancy you need extra sleep during the nine-month process. But just getting. An extra hour of sleep isn't the only thing you need to focus on, ensuring quality sleep is what is most beneficial.
Why Sleep Quality is Important During Pregnancy
During pregnancy, everything a mother does affects the embryo or fetus. You might not think that sleep quality during pregnancy is as important as how much sleep is achieved, but the truth is that if mom is well rested then she is less likely to suffer from complications such as high blood pressure or gestational diabetes. These types of conditions can damage the overall health of an expectant mother by causing chronic headaches, cardiovascular damage or abnormal blood sugar levels.
In addition to the benefits proper quality sleep has on pregnant women, such as providing a stronger, healthier immune system, these benefits play a positive impact on a developing fetus. A mother's stronger immune system, for example, leads to a stronger infant with a proper birth weight. Infants are also less likely to have birth abnormalities such as heart defects, cleft palates or clubfeet. The physical and mental stress from lack of sleep during pregnancy can also lead to premature births of infants.
Women who are approaching their delivery date and suffer from poor-quality sleep can have additional problems as well including difficulties with breathing. By planning ahead, a pregnant woman can improve her quality of sleep so that she feels better and has a healthier infant.
Four Tips for Better Sleep Quality While You Are Pregnant
1. Make Changes to Your Bedroom
During pregnancy, extra weight and body changes can make getting comfortable seem like an impossible task. If you are looking to get better sleep and you've had your current setup for more than five years, consider replacing your old sagging mattress and box springs. While a woman is pregnant, she will gain a lot of weight, and this means that she requires more support for her back and abdominal area. You may want to add other items to a bed to make it more comfortable such as placing a soft, foam topper on the mattress, or additional pillows. Replacing bedding items such as blankets, comforters and sheets is also a good idea, as a pregnant woman often has extremely sensitive skin.
2. Sleep in the Correct Position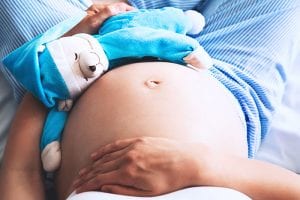 One of the. Most common positions for sleeping is reclining on the abdomen, this is also the most obvious position to avoid while you are pregnant. While sleeping on your back is easy during the earliest stages of your pregnancy, this becomes difficult as your abdomen increases in size. Thus, sleeping on your side is an excellent idea, and experts recommend the left side of your body so that blood flows efficiently through your bloodstream to the placenta. While you are sleeping in a comfortable position, the blood flowing into the placenta nourishes the embryo and fetus. For additional comfort, you can bend your knees while you are on your side and place a pillow between your legs or underneath your abdomen. Sleeping in the correct position can also prevent breathing problems that are caused by snoring or sleep apnea.
3. Prop Up the Head of the Bed
Many pregnant women experience nausea or heartburn during the various trimesters, and when they are reclining these conditions can worsen. This is because the fetus is pressing against the stomach and other digestive organs, causing acid to flow backward into the throat and mouth. In addition to avoiding spicy or greasy foods in the evening, consider propping up the head of the bed slightly with special devices or added pillows. Alternatively, you can use special wedge-shaped foam devices to lift the upper portion of your body. Eliminating digestive issues during pregnancy can help you avoid sleep disturbances throughout the night that lead to feeling tired in the morning.
4. Regulate Your Body's Circadian Rhythms
Your body's circadian rhythms are controlled by several factors, including your exposure to light, hormones and brain wave patterns. To ensure your body's circadian rhythms are performing at their best, be sure to follow a few easy steps. First, make sure to receive natural sunlight during the day so that your body produces vitamin D. While added natural light intake is beneficial during the daytime hours, in the evening, you must help your body adjust gradually to less light by closing your home's draperies and window blinds. The use of lamps and light bulbs that dim slightly for several hours to adjust the body's circadian rhythms at night is also helpful. Once ready for bed, turn off the electronic devices in the bedroom so that there are no glowing lights that can disturb the body's natural circadian rhythms. Taking a natural oral dosage of melatonin at bedtime can also help keep the mother and developing baby's circadian rhythm in proper order. In addition, melatonin supplementation not only helps with sleeping habits but can potentially offer other significant health benefits to expecting women and their unborn fetuses. This includes reducing the effects of oxidative stress, aiding in healthy brain development and placental health as well as reducing the risk of post-labor complications such as intrauterine growth restriction, premature birth and spontaneous abortions.

Everyday You


Sleep