Parents know anticipating the expected due date of their baby is important. Paternity leave, baby showers, doctor appointments and nursery preparations are all planned around this date. Some parents might even try to conceive around the predicted day of birth for personal reasons. Knowing the expected due date and exactly how far along you are in your pregnancy will also help you monitor your body and baby's growth so you can report anything to your doctor.
The Female Reproductive Cycle
In order to calculate the day of birth, you should have knowledge of a woman's menstrual cycle. The first day of the menstrual cycle starts the first day of your period. A typical period lasts about three to seven days. Once bleeding has fully stopped, the follicular phase begins. During this phase, your ovaries start getting ready to release an egg and the lining of the uterus thickens in preparation to hold the egg. This phase lasts about seven days. Next is ovulation, when the egg is released from the ovaries. Ovulation is actually a very short phase, lasting only 12 to 48 hours. This is the most likely phase for conception to occur. Sometimes women will refer to ovulation as a "half period" as they may experience cramps and discharge during this time. Finally, the zygote travels down the fallopian tubes and attaches itself to the lining of the uterus walls. If the egg is not fertilized or fails to attach itself to the uterine wall, the uterus will begin to shed the lining and a period will occur.
Knowledge of the menstrual cycle can aid in pregnancy success or just help women better understand their own bodies. Typically, a menstrual cycle lasts 28 days. You can calculate the length of the cycle by paying attention to when your period begins.
Ways to Calculate Due Date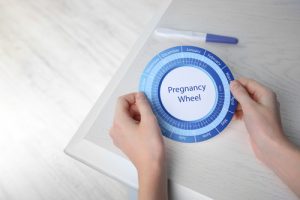 Since the menstrual cycle and pregnancy are closely related, the due date is calculated in a similar fashion. Many people incorrectly believe the first day of pregnancy to be the date of conception. However, the first day of pregnancy is actually the first day of your last period, or the first day of a new menstrual cycle. Instead of a period and your body releasing the egg, it holds on to it and your baby develops.
Usually, your due date is calculated by adding 280 days (or 40 weeks) from the first day of your last period. Online calculators can be a helpful tool.
If you do not have a regular menstrual cycle, sometimes a due date can be predicted with an ultrasound. Practitioners can determine how far along your pregnancy is by noting certain developmental milestones of your fetus and from there can estimate how much longer you have to go.
Contributing Factors
Just like predicting the weather, predicting a due date is not always exact science. In fact, only 5% of women deliver on their actual predicted due date! Many factors can contribute to an earlier or later birth. For example, twins are typically born premature. Smoking, drug use or alcohol use during pregnancy may also lead to a premature birth. Sometimes, babies are overdue and born weeks after their predicted due date.
Sometimes labor is induced. This means starting labor on purpose. Doctors may do this to prevent complications. There have been cases where a labor is induced a few days early because a doctor plans to be out of the office on the predicted due date. It is important for mothers to advocate for themselves and their baby.

Pregnancy Basics