Breastfeeding is hard work, but it is one way to help give your baby an extra immune boost. To create a nutrient-rich option for yourself and breastfeeding baby focusing on key vitamins, minerals and nutrients needed for postpartum health and baby's development are key. For new breastfeeding mothers or those who are soon-to-be, here are some dietary options to help provide the best nutrient-rich breastmilk for your little one.
Why Breastfeeding is So Important
Breastfeeding has been proven to be highly beneficial for newborn babies for a variety of reasons. Beneficial for the both mother and baby, it provides an opportunity to build a strong bond as mother and child and breastmilk can provide baby with the most important nutrients they can receive for the first few months of their life, and beyond for those who choose to continue doing so.
Understanding the importance of postpartum nutrition is key when breastfeeding, as what you consume in your diet is passed on to your baby when you breastfeed. Your diet can also have some effect on the concentration of nutrients passed to your baby when you nurse them. On average, an ounce of breastmilk is around 19 to 23 calories, with 3.6 to 4.8 percent from protein, 26.8 to 31.2 percent from carbohydrates, such as lactose, and 28.8 to 32.4 percent from fat.
While this nutritional breakdown is based on average numbers, breastmilk's composition can change with each feeding and throughout the lactation period depending on your production, dietary intake and baby's needs.
Foods to Include in Your Breastfeeding Diet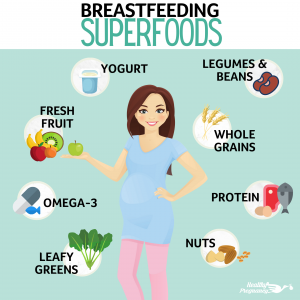 Because your baby essentially eats everything that you do, it's important to incorporate a balanced and nutrient-rich diet into your daily life. Throughout the day, aim to include certain foods that contain essential vitamins that can benefit your baby and your own breastfeeding health.
Protein: Proteins such as lean meat, poultry, fish, dairy, eggs, beans and nuts should be included in your postpartum diet as protein is important for postpartum recovery and for the growth and repair of your body's cells. Aiming for three to five servings of protein per day is ideal.
Fruit: In general, for a balanced and nutrient-rich postpartum diet, you should have at least two servings of fruit per day, but you can definitely eat more than that. Many fruits are high in vitamins and antioxidants which can help boost the immune system and promote overall health.
Vegetables: Like any healthy diet should be, you should be including at least three servings of veggies per day, including dark, leafy greens which are high in folic acid (B9).
Water: You aren't out of the clear for hydration issues just because you're not pregnant anymore, be sure to stay hydrated daily and continuously drink water throughout the day to prevent your body from any health issues or breastfeeding issues due to dehydration.
Whole grains: Not only are they healthy, but eating whole grains like pasta, whole wheat, cereal, oatmeal and more will allow you to feel fuller longer and contain nutrients that help promote overall health.
Multivitamins: Like during pregnancy, during postpartum, you should take a nutrient-packed multivitamin daily to replenish any nutrients you might be missing in your daily diet.
Omega-3 (DHA & EPA): During postpartum, you need omega-3 in your diet as it helps your baby to develop. In addition, DHA can also help baby's vision, while EPA can help lower inflammation in your postpartum body.
Calcium and Vitamin D: Calcium and vitamin D are essential for bone development and health. They can also improve immune function. You can get calcium from dairy products, dark, leafy greens like spinach and kale and vitamin D from foods such as fatty fish, fish liver oil and fortified foods.
Iron: Iron is an essential nutrient for you and your baby, as it can promote brain development, normal cellular function and muscle and connective tissue growth. In addition to iron, you should ensure you take in plenty of vitamin C which can play a vital role in allowing your body to properly absorb iron. Dark, leafy greens, legumes, beans, lean meats, poultry, seafood and nuts are rich in iron.
Meal Planning for a Nutrient-Rich, Breastfeeding Diet
To start enjoying your daily meals while getting all the essential vitamins and nutrients you need for your own health and for breastfeeding, stick to nutrient-rich options that cover all the vitamin bases. To help you out when you can't think of what to make, here are some ideas to save for later.
Healthy Breakfast Options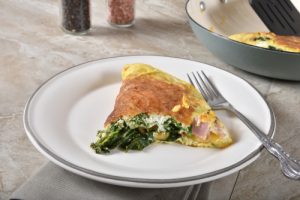 Ingredients:
1 tsp olive oil
2 large brown-shell eggs, scrambled
1-2 C. of fresh spinach
½ C. shredded cheddar cheese
Directions:
Heat olive oil in a skillet over medium heat.
Add remaining ingredients and scramble together while cooking for two to four minutes until eggs are no longer runny.
Garnish with salt and pepper to taste and enjoy.
Ingredients:
½ C. old fashioned rolled oats
1 Tbsp. hemp hearts seeds
1 Tbsp. chia seeds
1 serving collagen peptides (optional)
1 ¼ C. unsweetened almond milk
Toppings of your choices (nut butter, berries, honey, nuts or seeds, etc)
Directions:
Combine all ingredients, except toppings, in a mason jar or sealable container. Mix-well, seal and refrigerate overnight (or up to 5 days).
These can be enjoyed cold or heated up via microwave for 2 minutes to enjoy warm.
Add your desired toppings before eating, and enjoy.
Nutrient-Packed Lunch Ideas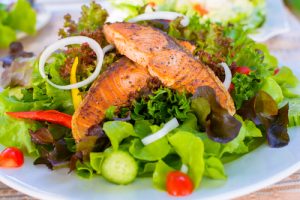 Ingredients:
1 C. cooked wild-caught salmon
2 C. mixed salad greens
1 C. spinach
½ fresh tomato, chopped
1 celery stalk, finely chopped
½ C. black beans, cooked and drained
½ carrot, chopped
1 Tbsp. onion, finely chopped
¼ C. sunflower seeds
For the dressing:
1/4 C. fresh lemon juice
1 small garlic clove, grated
1 tsp Dijon mustard
1/4 tsp sea salt, to taste
Freshly ground black pepper
1/2 tsp honey, optional
1/4 C. extra-virgin olive oil
1/2 tsp fresh thyme
Directions:
Broil wild-caught salmon, cut up and set aside.
Make a traditional salad using greens, spinach, tomato, celery, onion, black beans, carrots and sunflower seeds. Add cooled salmon to the top of salad.
To make the dressing add all ingredients to a small bowl and mix well. Alternatively, you can combine everything in a jar with a tight-fitting lid and shake to combine.
Drizzle dressing over salad and enjoy.
Ingredients:
1 whole wheat wrap
1 Tbsp. Dijon mustard
1 tsp mayonnaise
½ C. fresh cucumber, chopped
Sliced onion to taste
3 baby carrots, chopped
½ C. cooked chicken breast
2/3 C. fresh spinach
3-4 avocado slices
Directions:
Spread Dijon mustard and mayonnaise over wrap.
Add remaining ingredients to center of wrap and fold in ends and tightly roll to easily hold to eat.
Healthy Dinner Options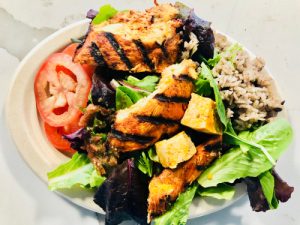 Ingredients:
4 boneless skinless chicken breasts
3 tablespoons butter
⅓ cup chicken broth
4 tablespoons fresh lemon juice
1 tablespoon honey
2 teaspoons minced garlic
1 teaspoon Italian seasoning
salt and pepper to taste
optional: fresh rosemary and lemon slices for garnish
Directions:
Preheat oven to 400 degrees F and line baking sheet or casserole dish with foil.
Melt butter in a large skillet over medium heat. Add chicken. And cook each side just until browned, then transfer chicken to prepared baking sheet or dish.
In a small bowl whisk together broth, lemon juice, honey, garlic, seasoning, salt and pepper. Pour sauce over chicken breasts.
Bake for 20-30 minutes until chicken is cooked through, spooning sauce from the pan over the chicken every 5-10 minutes.
Garnish with fresh rosemary and lemon slices and serve with brown rice and your choice of veggies.
Ingredients:
1 Tbsp. olive oil
1 C. chopped onion
½ tsp ground cumin
¼ tsp ground cinnamon
3 C. water
1 C. red lentils
1 medium sweet potato, peeled and cut into 1/2-in. cubes
½ C. chopped dried apricots
1 tsp grated ginger
¼ tsp salt
¼ C. chopped cilantro
Directions:
Heat oil in a large pot over medium heat.
Add onion and fry until browned, stirring frequently.
Add cumin and cinnamon and sauté for 1 min or until spices are fragrant.
Add water, lentils, sweet potato and dried apricots and bring to a boil.
Cover pot and simmer over medium-low heat for 20 min or until sweet potato is tender and lentils have broken down completely.
Add ginger and salt and simmer for 2 min to blend flavors.
Serve over rice and garnish with cilantro.
Ingredients:
1 Tbsp. olive oil
½ – 1 onion, chopped
1 C. button mushrooms, sliced
2 carrots. Peeled and diced
6 baby potatoes, cut into small pieces
2 garlic cloves, minced
3 ½ C. vegetable broth
1 C. water
½ C. pearl barley
2 skinless boneless chicken breasts, cut into small pieces
1 C. frozen green peas
Directions:
Heat a large pot over medium heat. Add oil and onion and cook until onions soften.
Add mushrooms, carrots, potatoes and garlic and cook until mushrooms soften.
Add broth, water and barley.
Bring to a boil then reduce heat to medium-low and simmer, covered until barley is tender (about 25 minutes).
Stir in chicken and peas until chicken is cooked through.
Make-Ahead and Easy DIY Snacks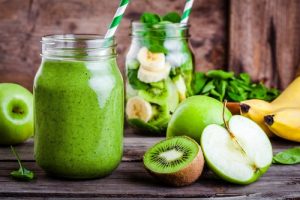 Ingredients:
1 C. of coconut water
½ C. spinach
1 serving vanilla protein powder
1 tsp bee pollen
½ C. rolled oats
1 C. frozen or fresh fruit of choice (we recommend of the tropical variety for flavor)
1 banana
Directions:
Blend all ingredients into a blender until smooth, adding more coconut water if necessary to reach desired consistency.
Ingredients:
1/3   C. Coconut Flour
1 serving plain or vanilla protein powder
1 tsp baking powder
½ tsp baking soda
½ tsp salt
4 eggs
½ tsp. vanilla extract
1 banana
3 C. spinach
Directions:
Mix coconut flour, protein powder, baking powder, baking soda and salt in a bowl and set aside.
Blend eggs, vanilla extract, banana and spinach in a blender and mix into dry ingredient mix.
Mix batter well until thick and well combined.
Spoon into greased muffin pan or liners and bake at 375 degrees F for 10-15 minutes.
Ingredients:
1 C. of plain or flavored Greek yogurt
2 Tbsp. granola
1 tsp. seeds (chia, pumpkin, sunflower, or flax)
½ C. fresh fruit, sliced
Directions:
Top yogurt with remaining ingredients, and combine to enjoy.

Breastfeeding

Diet

Postpartum Basics