Pregnancy is one of the most exciting times of a woman's life. When you are pregnant, your body is preparing to bring a new life into the world. During this time, your body will go through a variety of changes, including a growing belly. When you are pregnant, it will become difficult to fit into your clothing. If you don't have the money to spend on a whole new maternity wardrobe, there are a few changes that you can make to your current clothes so that they will fit right up to your ninth month.
#1 B-Buckles
If you are getting too big to use an elastic or you just don't like the way it looks, a B-Buckle is a great alternative. This product is made of a stretchy fabric that will snap across the front of your pants. B-Buckles work the same way that the elastic does, but they are more stylish. Also, they are stretchy enough that you can wear them right up to your due date. You can buy B-Buckles for under $30.
#2 Blazers and DIY Tunics for a Comfy and Chic Option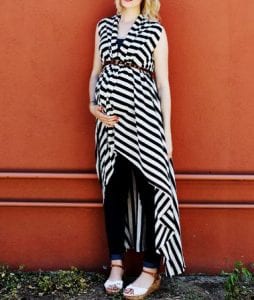 If you work in an office where the dress code is business professional, you can still wear your blazers. If you leave your blazer open, you will be able to keep your arms and back warm, and you will be abiding by your employer's guidelines.
If you're looking for something a little more fashionable than an unbuttoned blazer, or you find that old blazers just don't quite fit the way they use to in the arms and back, fear not. For those looking for a simple and stylish option, a no-sew tunic may just be the thing.
To create your own tunic-style cover-up, drape two yards of jersey fabric over your shoulders, making sure there is enough extra fabric in the front to drape over your belly when wrapped with a belt. Next decide the perfect placement you want your arm holes to be and cut a five-inch slice on each side to put your arms through. That's it! You can customize your tunic cover-up even more by cutting unique hem lines either straight or with a curve, then secure the sides closed with a belt placed above your belly.
Whether you plan on leaving your jacket open or putting together your own tunic, you will accommodate your growing belly.
#3 Utilize a Multipurpose Belly Band
A belly band is a wide piece of elastic fabric that fits over your waist, can come in a variety of colors, and they are relatively inexpensive. As your belly grows, your shirts may not cover your entire belly. If you layer your shirt with a belly band, it will hide your growing belly. If you can no longer button your pants, the belly band will hide this as well. If you have started wearing maternity pants, but they are still a bit large at the top, the belly band will work great as a belt.
#4 Pocket Dots
belly bands are great to cover your belly. As your belly grows, the belly band may not stay in place the way it once did. This is where Pocket Dots come in handy. They are designed to hold your belly band in place by fastening to the back pocket of your jeans. This will give you more wiggle room as you get closer to your due date.
#5 Secure Your Pants with an Elastic
If you want to keep wearing your regular jeans while you are pregnant, you will find that in time, you won't be able to button them. If you want to get a few extra months in your own jeans, a sturdy rubber band is all you need. If you tie one end of the rubber band to the buttonhole, you can wrap the other end around the button. This will keep your jeans fastened. If you aren't yet ready to start wearing maternity jeans, this is a great option.
#6 Empire-Waist Dresses and Tops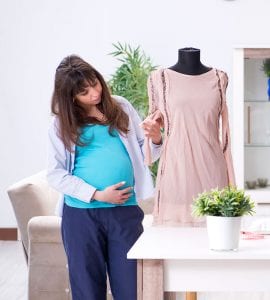 If you own empire-waist tops and dresses, they will accommodate your growing belly perfectly. The upper section of this type of clothing is very baggy. If you don't already have an empire waist dress, simply turn old maxi dresses or oversized t-shirts by adding a belt or ribbon as a waistline tie above your belly. The empire style dresses and tops cover your belly from the day you find out you are pregnant until the day you give birth. And when it comes to covering your belly comfortably, get creative! No one ever said a pre-pregnancy full skirt with an elastic waist can't become a strapless pregnancy top.
#7 Instant-Button Jeans Extender
If you want to keep wearing your favorite jeans, and you want to add a few inches, but elastic bands aren't for you, there is another option by creating, or buying, button jean extenders. These extenders are buttons that allow you to button up your jeans at the perfect location for you. The button can remain on your pants until you are ready to take it off.
To make these extenders, simple sew two or three buttons in a row, onto one side of elastic banding, and hem a button hole on the other side. This will allow you to insert this extender onto your favorite pair of pre-pregnancy jeans and adjust to different button lengths as needed.
#8 Borrow from the Boys
Take men's apparel and modify it to be pregnancy chic. With a little inspiration from menswear, rolling up the sleeves on a men's button down and pairing it with a cami tank top and pretty scarf adds a feminine touch to a comfy outfit.
#9 A Little Extra Length and Padding
When you approach your third trimester and due date, often times your belly button will start to stick out. If you often wear tight-fitting shirts and dresses, some women find that having the bottom of their growing belly peeking out or a visible belly button isn't the most attractive feeling. To avoid this you can layer an extra-long cami under more loose fitting tops, or if you don't want to layer up, you can extend your top length yourself. Attach a. border of fabric to the bottom of a straight-hemmed top. Attach the fabric on the underside of the top with enough room that the added fabric will cover your belly button and extending beyond the waistline. This added length and fabric allows extra material to layer up to camouflage that popped belly button, while providing extra length and coverage. 
#10 Bra Extenders
As you get closer to your due date, your bust is going to grow. If you don't want to spend a great deal of money on maternity bras, a bra extender will allow you to keep wearing your favorite bras. The bra extender attaches to the clasp on your bra, giving you a few extra inches. You can typically purchase a six-pack of bra extenders for approximately $14, making it another affordable alternative to maternity clothes. As your cup sizes begin to change however, you may want to invest in a good maternity bra when you start to feel tight or uncomfortable.
#11 Create a Form-Fitted T-Shirt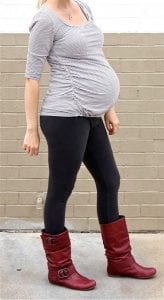 T-shirts are the easiest comfort apparel to come by during pregnancy, but if you want to have the comfort of an oversized tee with the style of chic maternity wear, you can do so easily by adding ruche to the sides with elastic.
Start with a long that fits you well in the chest area. On the side seam of the shirt, measure from the chest area down to the bottom hem of the shirt.
Next, cut a piece of skinny 1/4-inch-wide elastic that's 1/2 to 3/4 of the measured length. On the inside side seam, pin the elastic down the length of the shirt, starting where your chest would be and at the bottom of the shirt. Then begin to fill in the middle by pinning along the middle. Continue splitting the difference so you have it pinned in about six to eight places. Keep in mind that the elastic will stretch as you sew and gather the shirt up with it.
Starting at the top of the pinned elastic, use two hands to pull the elastic taut, down to the next pin while sewing along the side seam and removing the pins as you go.
Complete this process on both sides of the shirt and you are done! You can also sew in elastic around the front bottom of the shirt to help "cradle" around your lower belly even more, if desired.
#12 Toupee Tape
Celebrities have been using Toupee Tape for years, and it is great for pregnant women as well. It is double-sided tape designed to stick to your clothing. If your growing belly is causing gaps between your buttons, Toupee Tape will hide the gap. This might not work up to your ninth month, but it will keep you in your regular shirts for an extra few months.
Being pregnant doesn't mean that you can't keep wearing your favorite clothes. Each of these pregnancy clothing solutions will keep you in your favorite clothes right up until your due date.


DIY Projects

Everyday You

Preparing for Baby