Regardless of how many children a couple may already have, announcing a new baby is a joyous time. Whether this is the first baby or the fifth, announcing a new member of the family is an exciting moment and for couples who already have one or more children, including them in the news can be a bonding moment for the family to celebrate together with.
Not only will this add to the fun of sharing the news and help make your other children feel important with being involved, it can also present the opportunity for a creative pregnancy announcement to share with friends and family. If you're looking for some inspiration for involving the whole family in a new pregnancy announcement, here's a few options that can be tailored to any family size.
1. Congratulations on the New Promotion!
Basically, when you welcome another baby, the other children in your family get promoted to older siblings. An adorable way to announce a new bundle is to have your other kids have some fun with their promotion and climb the corporate ladder, if you will. With some cute ties, suspenders, or a pencil skirt, get the kids behind a desk and set the stage an office scene for the perfect promotion photo opp. To fully share the news, display your children's promotion statuses on a sign, clipboard or bulletin board in the scene to ensure that everyone knows just what is going on.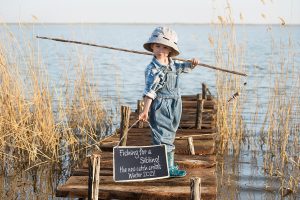 2. Gone Fishing
This approach to a fun family announcement is especially poignant if you are an outdoorsy family to begin with. Create the perfect photoshoot announcement by heading to the water with some fishing gear and position the older siblings by the water with their gear. To announce the news, place a sign near them that says something cute like, "Fishing for a Sibling," "We're Getting a New Fishing Buddy," "Adding One More Fisherman to the Family," or "We've Got Some Reel Exciting News – We're O-Fish-Ally Going to Need a Bigger Boat." Whatever your cute saying or sign, don't forget to put your prospective due date on there, too!
3. Embrace the Seasons
There's a good chance that your timing for a pregnancy announcement falls around a holiday or seasonal event. Whether Christmas is near, it's Labor Day weekend or Spring is just approaching, there is almost always a chance to include a seasonal celebration that can elevate your news to new heights. If Easter is close, for example, have your child hold up a sign exclaiming that they are, "Egg-cited to be a big sibling!" Some adorable painted eggs, bunnies, and chicks would really complete the scene here.
For more inspiration on how to include various seasons and holidays into your announcement, click here for our Creative Guide to Pregnancy Announcements and Gender Reveals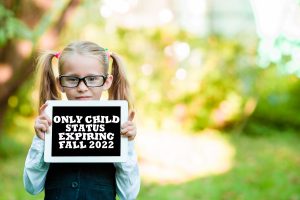 4. It's Your Sibling and You'll Cry if You Want To
Sometimes, you just have to face the music and expect your child to not be so excited that they are losing their baby status, or only-child opportunity. While this signifies the potential for some big parenting woes, it is also a more comical way to announce the pregnancy. Let that pouty face shine as your kid holds a sign stating that they are losing their only child status. People will get a kick out of it and it is a great memory to look back on when everyone is grown.
5. Send Them to 'Boot Camp'
Alright, do not literally send your child to boot camp, but stage one instead. Find a small tent and some baby props before getting to work on a sign that tells it all. Having your older kids practicing swaddling and diaper changing on stuffed animals with a sign that reads "Older Sibling in Training" says it all with this pregnancy announcement approach.
6. Get Comfy and Personalized
Graphic t-shirts really do explain everything when you want them to, and utilizing them for a pregnancy announcement is easy, straightforward, and comfortable for the whole family. Have a few made professionally or make them yourself with vinyl iron-ons or fabric markers, with titles, including "mom," "dad," "oldest child," "middle child," "big sister/brother," and then make a baby onesie that says, "youngest," or "baby." Of course, you can customize the shirts to fit your family and even apply some of the cute sayings from above to appear on your children's shirts.
7. Here We Go Again…
If you already have more than one child, for the older siblings who are already pros at the older sibling role, create a shirt, sign or chalk drawing that says something like "Big Sister/Brother AGAIN" or "Here we go again" with the detail that Baby is coming soon.
8. Keeping the Announcement Inclusive, Yet Simple
If you are reading these, feeling overwhelmed, and creatively drained, don't panic. Having an elaborate photo shoot or themed announcement isn't a necessity. A simple announcement option that always does the trick is an updated, casual family photo. Round up the siblings at home or in the yard, grab your new ultrasound pictures, have them hold the photos, and snap some photos of them displaying the ultrasound. Capturing their natural reactions is best, especially if they are just as happy as you are, or if you are capturing their reaction when you first show them the ultrasounds.

Preparing for Baby