Researchers at UCLA and Cedars-Sinai have developed a new technology to detect placenta accreta spectrum (PAS) disorder, a life-threatening condition in pregnant women. The condition happens in less than 0.5 percent of all pregnancies.
UCLA professors Dr. Yazhen Zhu and Hsian-Rong Tseng have been developing the new NanoVelcro chip technology for 15 years. The researchers specialize in molecular and medical pharmacology.
Specialists are currently using ultrasound combined with an assessment of pregnancy history to diagnose placenta accrete spectrum. The condition is asymptomatic and is only discovered when a mother goes through routine prenatal ultrasounds; thus, a new detection method will improve diagnosis.
How Does Placenta Accreta Spectrum Disorder Occur
The placenta should attach to the wall of the uterus via chorionic villi. Placenta accreta occurs when the chorionic villi abnormally attach to the uterine wall. The chorionic villi fail to attach to the decidua of the uterine wall and instead abnormally attach to the myometrium. In other terms, the placenta attaches too deeply into the uterine wall but without penetrating the uterine muscle. In severe cases, chorionic villi penetrate all uterus layers and attach to nearby organs like the intestines and bladder.
Placenta accreta spectrum disorder can cause the placenta to stay attached to the uterus after birth. While the condition does not harm the fetus or cause pain during pregnancy, it might cause a significant blood loss to a mother who has just given birth and whose placenta has to be removed.
If not detected during the prenatal stage, the condition may lead to an emergency that requires transfusion and intensive care. It might also cause infection or death due to excess blood loss if the placenta is manually detached from the uterus after giving birth.
How NanoVelcro Technology Helps in Diagnosing PAS
NanoVelcro is a cell-isolation technology initially developed to isolate circulating tumor cells in cancer patients. NanoVelcro is actually a nanostructure-embedded microchip that captures and enriches specific target cells in a mixed sample.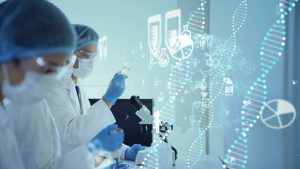 Researchers began exploring the platform as a tool to perform non-invasive prenatal diagnoses. They were riding on previous proof of a concept that it was possible to isolate circulating trophoblast cells derived from the placenta from parental blood to use for chromosomal or other genetic testing.
The NanoVelcro chip device is the size of a postage stamp with nanowires. The nanowires are tinier than human hair by 1,000 times and contain a coating of antibodies that recognize specific cells. Researchers in the PAS-detection study adapted the chip to detect placenta cells (trophoblasts) linked to placenta accreta spectrum disorder in a mother's blood.
Trophoblasts appear during the first days of pregnancy. When used to test a blood sample, they stick to the chip, and they can be seen under a microscope. A mother is at a higher risk of PAS if trophoblasts or trophoblast clusters show an abnormally high count.
Zhu, a senior author of the NanoVelcro study, said that the first time they saw trophoblast clusters was like watching glistening pearls. She adds that seeing the cells under the microscope felt like "a direct view into the placenta in a developing pregnancy."
Significance of NanoVelcro Technology in PAS detection
Physicians in maternal/fetal medicine practice believe that the platform may be a source of timely and more accurate diagnosis of PAS. Yalda Afshar, a UCLA physician and first author of the study, said that clinicians who treat the pregnant and delivering women are not "wringing their hands over PAS, but there is a need for better and early diagnosis."
Clinicians can perform the new blood test early, even in the first trimester of pregnancy. Early testing allows early referrals to doctors specializing in high-risk pregnancies if a test points out the risk of PAS. Blood drawn for tests in more than 100 women was 79 percent accurate in confirming the presence of placenta accreta spectrum disorder. The accuracy in ruling out PAS with a negative result was 93 percent accurate.
Current diagnosis by ultrasound must be combined with an assessment of pregnancy history. For example, a history of placenta previa, a condition that causes the placenta to cover the birth canal, or previous births by caesarean section indicate heightened risk. However, those factors alone are not reliable enough to diagnose all cases except the most severe ones. Current diagnostic tools in the imaging-based methods, including ultrasonography and magnetic resonance imaging, are subjective because accuracy depends on the operator.
Dr. Margareta Pisarska, a Cedars-Sinai professor of obstetrics and gynecology, said that a multi-disciplinary approach by research teams is the key to the study's success. Dr. Pisarska, also a senior co-author of the NanoVelcro technology study, revealed that the team's diversity allowed innovative solutions to improve maternal and neonatal outcomes.
The researchers came from many disciplines, including nanotechnology, obstetrics, chemistry, engineering, pathology, micro fluids and biostatistics. The researchers are now exploring ways to improve the accuracy and reliability of the test.


Concerns and Complications

Pregnancy Basics