Announcing your pregnancy to your loved ones on Thanksgiving can be exciting, and having a holiday to organize a themed pregnancy announcement around can make the options for creativity nearly endless.
So, if you're searching for creative ways to announce your pregnancy on Thanksgiving Day, here are 15 unique ideas to help you make it an exciting announcement while you are surrounded by friends and family.
1. Writing a thankful note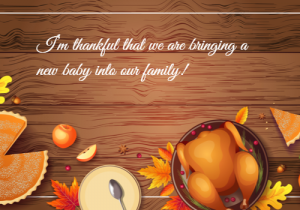 Looking for a fun and playful way to get the holiday buzzing? Place a small note card and a pen next to everybody's plate at the table and ask each person to write down one thing they're thankful for. Gather all those cards together, shuffle them, and for added fun get the youngest or the eldest member of your family to read out each note. Ensure you include your note with the announcement and sit back and watch as everyone lights up when the note is read that announces "I'm thankful that we are bring a new baby into our family!"
2. Unique décor
Take a copy of your ultrasound image and place it somewhere noticeable. You can put it on your Thanksgiving table, tape it to a prominent 'Give Thanks' décor item, or hang it somewhere in the kitchen and then request someone to get something for you near your not-so-hidden decor. Brace yourself as you might hear squawking sounds from the kitchen.
3. Customized wine bottle
Thanksgiving cannot be complete without some wine. Get some customized labels that include an ultrasound photo and stick them on the wine bottles. Issue them out as thanksgiving gifts, place them on the dinner table for your visitors to discover, or simply ask your parent to please open the wine for you. Whichever route you take see how long it takes before someone realizes that your wine selection comes with more than a nice vintage. If you're confidant the label subtlety won't be picked up, you can have a bottle of juice or even more obvious, a baby bottle, and have it at your place setting as you announce that you won't be having any of the wine this year.
4. Cozy up with a t-shirt
Today, quoted t-shirts have become increasingly common. Make your pregnancy announcement or gender reveal with a funny quoted t-shirt. You can have a pair of custom t-shirts for both the dad-to-be and the mom-to-be with a sweet message and funny Thanksgiving-theme quotes concerning the pregnancy. Some playful ideas for mom's shirt can be "I'm stuffed with more than turkey this year," "One more reason to be thankful this year," or "eating for two."
5. Eye-catching Chalkboard signs
Create a formal menu for your dinner guests with a personalized chalkboard on the table, buffet or somewhere in the kitchen. Have a menu chalkboard, dessert chalkboard and an announcement chalkboard! Or create one chalkboard with the menu and creatively incorporate your announcement. You can write a simple message like, "Eating for Two" or a sublet nod that there is also a "Bun in the Oven," and see who catches on.
6. Extra seat at the dinner table
When setting the dinner table, ensure you put an extra chair. It can be a high chair for babies or a decorated chair. To make it extra special, write a compelling message on a card with the pregnancy announcement or gender reveal and fasten it on the seat. During dinner, allow someone to enquire about the extra place setting, and you can say that you're just getting used to having an extra seat at the family table and announce you're expecting.
7. Turkey pregnancy announcement
A turkey pregnancy announcement is another beautiful way of breaking the news at Thanksgiving. You can become creative with this one too. Make beautiful notecards with perfect one-liners. For example, "We're excited to announce that we're expecting a little turkey," or "little turkey arriving [with the due date]."
8. Baby bottle servings
For a fun décor idea, put all the condiments for dinner into baby bottles and put them on the table. During dinner, all your guests will notice the bottles but wait for somebody to ask about it, and once they do, you can share the exciting news.
9. Baby heartbeat bear
Hearing the heartbeat of your unborn baby for the first time is a fantastic feeling. Why not give your loved ones a chance to listen to it too? This can take some planning but can be very worth it. Find a cute baby bear stuffed animal that you can record a message with and take it to your ultrasound before Thanksgiving and while your ultrasound technician is letting you hear your baby's heartbeat, record the baby's heartbeat with your bear. Then incorporate it in your holiday decorations and invite members of your family to check out it's sound effects, no one will expect to hear a heartbeat and when they do, don't be surprised if they are both confused and excited at what it potentially means.
10. Bun in the oven
Since Thanksgiving involves lots of baking, you can make your special announcement in this way. When everything gets set, you can say you forgot something in the oven and request someone to get it for you. Ensure you leave only one bun in the oven, like a diner roll. At this point, your guests will not fully understand and ask something along the lines of, "why did you leave a bun in the oven?" When your guests start laughing, you can emphasize, "Indeed, there's a bun in the oven."
11. Photo ops
You don't have to buy a lot of props for this one, or you can choose to go all out. Set up a fun Thanksgiving-themed photo op or photobooth with simple turkey-day inspired props as well as some baby-themed props. If this is a pregnancy announcement you can simply include a couple baby-themed props for people to pick up on or you can make an announcement that you want a photo op with some key relatives, have everyone grab their props and at the last minute hold up a little sign that says, "we're expecting" for the ultimate surprise photo op reveal. For a gender reveal party, simply have team boy and team girl gender reveal props that people can use or if you are sharing what you already know it will be, only include props that portray the baby's gender.
12. Onesie cute gift
If you have invited a small group for dinner, why not gift every one of them with a well-packed Thanksgiving baby onesie to announce the pregnancy or reveal the gender?
13. Family photo
Get your whole family involved with a cute Thanksgiving-themed pregnancy announcement that you can share with everyone else. You will not only manage to announce the pregnancy to your close family but will also have a valid reason to have your family photos taken.
14. Handmade game
If you're creative enough, you can make a cute handmade game to share the news. Create mix and match cards, or scratch off cards and give family a chance to match three of a kind to win a prize. Ensure that at least one of the options is your pregnancy announcement or gender reveal. When they get to that selection, watch as they win the ultimate prize in learning your exciting news! You can also make a custom puzzle that reveals your announcement and have members of your family work together to complete it.
15. Keep it simple
Looking for a simple but heartfelt way of sharing your news? The simplest way of making your Thanksgiving pregnancy announcement is to take a moment before dinner to share a blessing or say grace, and in your toast drop the news. But don't be surprised if the announcement causes a mid-blessing uproar!
No matter how you choose to share the news concerning your pregnancy, it will always remain special. And sharing this exciting news with your family and friends at a time like Thanksgiving can even make it more fun and memorable for everyone in attendance.

Preparing for Baby