'Tis the season to be jolly… and if Santa is delivering a little extra joy this holiday season, spread the extra holiday cheer by spreading the news about a new pregnancy with a fun holiday-themed pregnancy announcement!
Regardless of whether you'll be announcing a new pregnancy, revealing baby's gender or celebrating a new arrival, announce it with a little extra holiday magic this season.
Below are a few of the top creative and unique ways that you can share news of your pregnancy or baby's arrival in a fun way this holiday.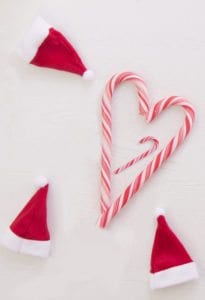 Candy Canes & Cookies
Why not mix an announcement in with a fun little treat alongside it? For your holiday greeting this year, take two regular sized candy canes and face them towards each other, forming a heart, and place a smaller candy cane in the middle. Or, if you're in the baking mood, cook up some tasty Christmas cookies with two adult gingerbread characters and a baby gingerbread cookie to share the exciting addition to the family.
You can also whip up a batch of cookies decorated in pink or blue to share your baby's gender, or arrival.
>>Click here for some tasty cookie recipes to share your announcement with.
Hang the Stockings with Care
For this fun announcement of a pregnancy or baby's arrival take a photo of your stockings by the fireplace and have a mini stocking hanging in the middle to represent the new member of the family bundle of joy.
For an added surprise, hang baby's stocking and invite your loved ones over. If you already have the gender and a name picked out, you can decorate the stocking accordingly and wait for family members to realize the surprise!
For a gender reveal option, hang baby's stocking and stuff it with gender-specific toys sticking out to reveal baby's gender. Another option is to hang a stocking decorated with the words "It's a Boy" or "It's a Girl."
Present Your Present
This announcement can be done with a simple photo op by placing a bow on your belly with a gift tag or hand-written note announcing "do not open until [your due date]" then share the photo with loved ones as a fun way to unwrap the news.
Make Your Own Countdown
Rather than a countdown to the New Year, create a countdown decor with your own "timer," counting down to your due date. Make sure your countdown is front and center with your holiday décor and wait for family to inquire about the timeframe. This not only makes for a fun holiday décor, but you can also use the concept in a holiday card or Christmas gift to key family members.
Let the Elf Help Out
If you want to include a popular Christmas character in your announcement let the Elf on the Shelf reveal the news of your pregnancy by holding your ultrasound on display, observing your positive pregnancy test on the bathroom counter or playfully trying on a pair of baby booties. Or place two elves on the shelf together on a mantle and place a picture of your sonogram between them. Snap a picture for your Christmas card or share it on social media.
You can also use the Elf's help by announcing baby's gender with a pink or blue color book project or sharing the news of baby's arrival as he watches over baby as he/she sleeps, or hiding behind baby powder when it comes time for a diaper change. Regardless of the setup, be sure to have fun and don't worry about getting a little playful with the theme.
Give the Gift of Surprise
For a gift that gives the ultimate surprise, share a customized gift with your parents, siblings or grandparents by wrapping up an ornament, coffee mug or keychain that says a simple little saying with their new title. Some ideas for what wording to use can include: "world's best grandma," "soon to be grandma and grandpa," "grandpa in training," "the best brothers get promoted to uncle," "aunt: est. 2016," "promoted from brother to uncle," or "this year grandma, you're getting promoted to great grandma."
Hand Out the Vino
Give the playful gift of a fun bottle of wine, wrapped up with a nice note explaining that your recipient can enjoy it for the two of you, as you will be partaking of a nine-month run of sobriety.
Share Coupons for Personalized Holiday Savings
Remember those handmade coupon books from sentimental gift giving times? Revisit this personalized gift option and in the mix, put together a coupon that is good for one grandchild, great-grandchild, niece or nephew. Remember to include the redemption date by incorporating your due date.
The Perfect Gift Box
Put together the perfect gift box for significant other, or family member(s) by placing a miniature stocking inside a gift box and stuff it with a miniature copy of your ultrasound, or positive pregnancy test if it's for your significant other, and place it inside or under the tree. For added fun, put that box in a bigger box to throw off any guesses as to what the gift could be. Address it to your loved one and watch their reaction when they unwrap it to find out the news!

Trim the Tree
Thanks to the internet, there are all sorts of ways to customize your own ornament, or you can make one yourself at home. Find a design or materials that you like and write something either simple or witty to announce your new arrival. When it comes time to trim the tree, make sure that decorating the tree is a family event, or you can give the gift of an ornament announcement.
You can also choose to share a mini photo of your ultrasound inside a frame-style or clear ornament. You can use a traditional picture frame ornament or curve the ultrasound image inside the back of a clear glass ball. If you already know your baby's gender, top off the ornament with a little blue or pink ribbon or glitter.

Baby Onesie
You can choose either a witty saying, such as "Santa isn't the only thing coming to town!", "this Christmas gift is homemade," or something more generic like "baby [your last name] due [due date]", and put it on a baby onesie. Then take a picture of it laid out amongst other decorations as a cute way to announce that you are expecting.
Another way to incorporate a baby onesie is to decorate it with a saying like "your Christmas gift is on layaway until [due date]," or "special delivery expected [due date]," "see you in [due date month]."
Letter to Santa
Even if you're not a five-year-old anxiously awaiting the arrival of old St. Nick, you can still make a "Christmas list" with boxes on the side listing a few things you're looking for that you've already received. Put a couple generic ones near the top such as new socks, a Christmas dinner with family, or a white Christmas, and make the last one something along the lines of "enjoy our last Christmas alone," and put a checkmark in the box; or have the last item by something like "share the news that we're expecting," and have it left as the last item on the checklist to be completed.

A Custom Hanukkah Charm
The Jewish celebration of Hannukah is a solemn and special time for any Jewish family, and even more so if you're expecting the arrival of a little one. Celebrate the special time of Hannukah with a custom necklace or bracelet charm that says something like "My First Hannukah." Your family will love it, and it'll add to the moment by making it a religious occasion.
Light the Menorah, or Kinara
Share your first night of Hanukkah with a photo of you lighting your first candle and a little note: "[eight, or seven,] nights of celebration, nine months of anticipation."
Custom Party Apparel
Enjoy showing up to your family's holiday party with personalized apparel that helps share your exciting news with a cute saying like; "you can stop asking when we are growing our family," "latkes for two," "this Christmas I'm eating for two," "the best gift isn't under the tree this year," "the more the merrier," "our last year of silent nights," or "it's not a Santa belly."
Get a Head Start on New Year's Resolutions
The beginning of a new year is a great time to set goals for yourself, whether personal or professional, and it's always a good idea to write some of them down. To get a head start on resolutions and simultaneously announce your pregnancy, ask family members to write down a resolution they have for the new year and pin it to a styrofoam Christmas tree decoration. Have family members take turns passing the tree and when it comes to you, make one about baby, such as "be a great first time mom," or "take our baby to his first hockey game." As people read other's resolutions, they'll start to wonder who has the news about baby and soon the whole gathering will be discussing your news that you can call dibs to once you've enjoyed watching all the buzz.
Regardless of how you break the news of your new arrival, your best gift this year won't be hiding under the tree, but sharing the excitement of a new baby on the way can be perfectly wrapped up with a ribbon and a bow in some cute context.
Enjoy sharing and celebrating your special news.[/vc_column_text][/vc_column][/vc_row]


DIY Projects

Preparing for Baby