Winter is one of the most exciting times of year with the holidays and plenty of reasons to cuddle up close to the ones you love. But, with the winter also comes chilly temperatures that can bring about a few health concerns when it comes to little kids.
The American Academy of Pediatrics recommends the following tips and considerations to help keep your baby or toddler dry and warm throughout the winter:
Dress Properly
Dressing your little one is very important, especially when in extremely low temperatures. Babies are not able to moderate their own body temperature as easily as adults do. So it is vital to make sure they are dressed warm enough for the weather around them. A good rule of thumb is to dress your baby in one more layer than you would wear yourself.
For example, you could layer a one-piece bodysuit, a long sleeved shirt, and pants. You could then add a snow suit or warm winter coat on top.
When dressing baby in warmer clothes, there are some things to keep in mind:
Cover the extremities – The extremities are the first thing to lose heat from your body. Make sure to cover your baby's hands, feet, and head to help keep the heat in.
Remove outer layers when in the car seat – When your baby wears extra clothing such as snowsuits or a coat this can make the car seat too loose. So it is a good habit to remove the puffy winter gear before you strap them into their car seat. If you think they will still be cold in the car, then bring a blanket to set over them once buckled in.
Keep an eye out for overheating – If you are out and about or taking a longer drive with your little one all bundled up, you should check on them every ten to 15 minutes to make sure that they aren't sweating. If they are sweating or appear to be too warm, then take off one layer of clothing.
Be aware of the time- When it comes to colder weather, you want to avoid keeping your little outside in the cold for too long. Try and work in some breaks indoors to help break up the amount of time they are in the cold. Plan for breaks every 20 to 30 minutes to keep body temperatures up and comfortable.
Keep them dry – Make sure to change your baby's diaper often. If your baby or toddler's clothing becomes wet and they are planning to stay outside, it is best to change into something dry to help avoid a drop in body temperature and increase the risks of hypothermia.
Sleep Safety in the Winter Time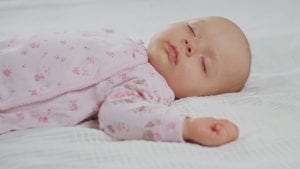 Keep in mind good sleep safety habits even during the colder months. That means that you should try and avoid the urge to bundle them up for bed. You want to keep their sleeping environment safe and empty. This will help reduce the risk of SIDS. So keep blankets, pillows, quilts, or sheepskins out of the crib.
To help keep your baby warm, you can dress them in a warm one-piece sleeper.
Watch out for using things such as space heaters as they can cause burns, fires, and carbon monoxide poisoning. Make sure that your space heater meets all of the required safety standards, and place it on a hard, nonflammable surface at least three feet from flammable materials. Remember to always to it off when you leave the room or go to sleep. Never leave a baby or toddler alone in a room with a space heater on.
Stay Hydrated
The body uses extra energy and water to help stay warm when it is cold outside. So make sure to offer the bottle, breast, or sippy cup often and check your baby's diapers. If they are producing a lower amount of wet diapers than normal, that could be a sign of dehydration.
On top of hydrating with water, you should also keep baby's skin hydrated. Use hypoallergenic cream, lotion, or ointment a few times a day to help avoid chapped skin. On top of that, don't forget that even if the sun is not out, SPF is still a good idea. This will help to protect baby's sensitive skin from any damage. Shoot for using at least SPF 15 broad spectrum sunscreen if you plan on being outside for more than 20 minutes.
Things to Look Out For
If you are planning on enjoying the winter wonderland with your little one, here are a few things to keep in mind:
Be on the lookout for frostbite – If you notice white or grayish skin and blisters on your baby's fingers or toes these are signs that the skin tissue is freezing. Go inside right away and place the frostbitten extremities into warm, not hot, water. If it is the nose, ears, or lips you can apply a warm washcloth instead. After a few minutes, remove any wet or damp clothing and cover your baby with blankets. Track their progress and if numbness occurs for more than a few minutes contact the doctor.
Look out for signs of hypothermia – Hypothermia occurs when your baby's body temperature drops below normal. If your baby's skin is very red, they seem clumsy or lethargic and are shivering, they may have hypothermia. Call 911 right away, take your baby inside, get out of any wet clothing, and wrap them in blankets immediately to help warm up.
Baby Friendly Winter Fun Ideas
We know it might seem hard to find things to do with your baby or toddler during the winter time, especially if it is very cold outside. But here are a few ideas that you could try to :
Bring the snow inside – If your baby has not really experienced snow yet, why not bring some inside for them to become acquainted with it. Bring a small box filled with snow inside and let your baby play with it. You can just let them feel around in the box, put it into sensory bags with beads or small toys, or show them how to roll a snowball!
Go to a children's museum – When the weather is just a little too cold to be outside, why not pack up for the day and go enjoy a children's museum in your local area. Children's museums offer different things for you both to enjoy and are often free or inexpensive to spend the day at.
Bundle up and get out of the house – If you are feeling up to it, try bundling up and going on a walk to your local park or playground. Just remember to try and take breaks every so often to get out of the cold.

Prenatal Health